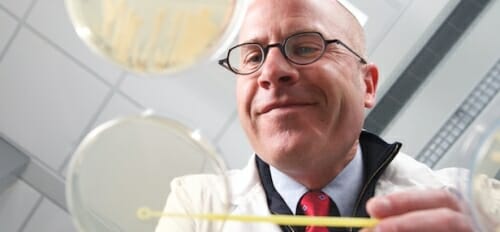 As the outbreak of the novel coronavirus that causes COVID-19 was deemed a pandemic, research institutions across the United States rapidly shifted focus to studies aimed at understanding the virus and finding treatments.
The University of Wisconsin School of Medicine and Public Health is among them and has responded to the demand in a big way.
Through pharmaceutical industry collaborations, partnerships with other academic and medical institutions, and its own clinical trial expertise, SMPH and its companion academic health system, UW Health, has in three months launched several clinical trials aimed at developing treatments for COVID-19 and better understanding the disease.
Among the latest clinical trials is a study conducted in partnership with the pharmaceutical company Novartis examining the potential for an existing drug called ruxolitinib to treat a serious and often deadly complication of a COVID-19 infection called cytokine storm. Locally, the study is being led by David Andes, professor of medicine in the infectious disease division at SMPH...
...more