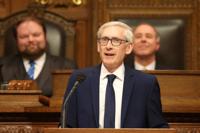 Democratic Gov. Tony Evers has called on the Republican-led Legislature to convene next Tuesday to take up a package of bills aimed at addressing the state's struggling agriculture industry.
Evers said he will begin meeting today with Republican lawmakers on the bills, which he described as a "three-pronged approach" to reinvest in Wisconsin farmers. Evers first announced the package of bills during his Wednesday State of the State address.
The proposed investment would be distributed over the 2019-21 biennium, he added...
...more