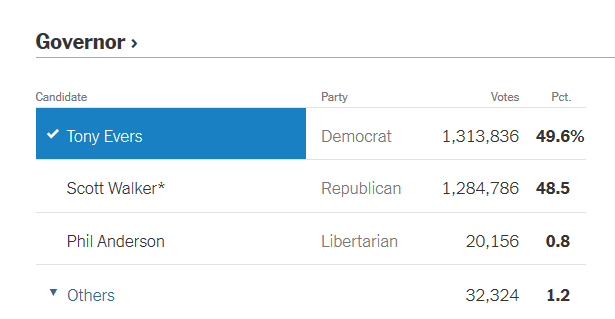 Early Wednesday morning Wisconsin Development News was among the first to report that Tony Evers had been elected. In that post I inadvertently used the word "dump" in reference the 1:00 am Milwaukee ballots. I would like assure my readers that no disrespect was intended, I was watching the returns until very late (early) and was seeing a few hundred votes at a time shift the lead back and forth until the Milwaukee ballots gave Governor Elect Evers the lead for good.
At the time I was (and am) actually excited about seeking a place at the table regarding the reshaping of economic policy and WEDC, bringing more local professionals intoo the tent, and creating a level playing field for ALL business. This is something I have been advocating for this since the creation of the organization (
See my article from 2012
). I would also like to explore Apprenticeship, and Environmental issues with the new administration. My readers should note I have been writing about these issues for more than ten years now.
If you have input in the new administration regarding these specific issues, please pass along my willingness to participate at any level.
WDNGreen.com
and
WisconsinDevelopment.com
will continue to advocate for business, the environment and Wisconsin.
I have no current political agenda or bias other than that of a pro environment, pro business, pro education, fiscal conservative who loves Wisconsin. These positions have left me adrift in a sea of partisan politics.

Again my apology for the use of the word "dump", as my grammar will attest in the post, at that hour my command of the English language was at best a struggle. Still is, but I would be happy to bring my grammatical faux pas to your group or organization.

Ken Harwood
Editor WisconsinDevelopment.com and WDNGreen.com

...more