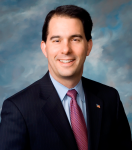 Governor Scott Walker, WEDC Secretary Mark Hogan, UW System President Ray Cross and other key leaders to award grants during statewide tour on "Fab Lab Day"
MADISON – Governor Scott Walker and the Wisconsin Economic Development Corporation (WEDC) today announced that 22 school districts throughout the state have been awarded a total of more than $500,000 in grants to establish or expand local fabrication laboratory (Fab Lab) facilities.
"Fab Labs are the latest example of the many investments we have made in education and workforce development to ensure that Wisconsin students have the skills and training they need to compete for the jobs of the 21st century," said Governor Walker, who is attending announcement events in Rhinelander and Ashwaubenon. "Wisconsin's Fab Labs provide students with hands-on experience in areas such as design, engineering, and complex problem-solving – all key skills that will benefit those students regardless of the career path they choose after high school."...
See Also:
...more