Wisconsin Development News (click here to read online)


Online at WisconsinDevelopment.com - Searchable at Search WDN - WDN Tool Box, Links you can use everyday to help you and Wisconsin grow! Edited and published by Ken Harwood
Click Here To Subscribe or add Friends and Colleagues... Available free from our SPONSORS... Why I publish WDN... WDGreen Environmental News From a Business Perspective!



We are now seeking a limited number of sponsors for 2016 WisconsinDevelopment News.. Call 608.234.2174 if interested... ...Display And/Or Share This article
Madison City Council approves deal for massive Judge Doyle Square project
Madison - 10/1/2015 After nine hours of testimony and debate, the City Council early Wednesday morning narrowly approved a development agreement for the massive Judge Doyle Square project, deciding the benefits outweighed concerns about a $46.7 million public cost and other risks.

The city has spent the past four months negotiating at breakneck speed on an agreement with JDS Development for the controversial $200 million project.

At about 3:15 a.m., the council voted 12-6 with 11 votes needed among the 18 members who were present and voted. One council member recused himself and another was absent.

Mayor Paul Soglin, in a detailed, passionate appeal, called the project vital to "the future of the Downtown and the city" with a defeat "the greatest failure imaginable....

Ken Notes: I know old news, but chalk one up for the Mayor this could have slipped away on a number of occasions. Now about the County Building, City Hall, and the DHFS building... ...Display And/Or Share This article
Paul Ryan elected House speaker
National - 10/29/2015 Rep. Paul Ryan captured enough House votes Thursday to become the chamber`s next speaker, as a splintered Republican Party turned to the youthful but seasoned lawmaker to mend its self-inflicted wounds and craft a conservative message to woo voters in next year`s elections.

In a slow-moving roll call that mixed politics with pageantry, 218 lawmakers - a majority - called out the Wisconsin Republican`s name as their pick for the job. That assured that Ryan will become the 54th speaker, presiding over a chamber that has been awash in tumult ever since defiant conservatives hounded John Boehner, R-Ohio, into announcing his resignation from that post last month....

Ken Notes: This will be good for Wisconsin and his work together mantra may slowly chip away at the walls that divide us all. On can only hope... ...Display And/Or Share This article
Oscar Mayer plant in Madison will close; headquarters to move to Chicago
Madison - 11/5/2015 Madison's Oscar Mayer plant a fixture on the East Side for nearly 100 years will close and its headquarters will move to Chicago, putting 1,000 employees out of work, parent company Kraft Heinz announced Wednesday. The loss of one of Madison's signature companies is part of a plan by parent company Kraft Heinz to close seven factories in the U.S. and Canada, four months after the two food giants merged. Our decision to consolidate manufacturing across the Kraft Heinz North American network is a critical step in our plan to eliminate excess capacity and reduce operational redundancies for the new combined company, Kraft Heinz said in a statement. We have reached this difficult but necessary decision after thoroughly exploring extensive alternatives and options...

Ken Notes: This is too bad. I wonder if this would be a good opportunity for another regional operation to start or expand. There is a huge new market for organic beef, China and Japan are looking for protein from dried or cured products, dry aged beef is a luxury for restaurants. This will also provide Madison with a huge development site with some serious cleanup issues. We need to start planing for this TODAY or we will be left with it in the future. Our best wishes to the employees and please let us know how we can help! ...Display And/Or Share This article
Editorial: No state has been so ill-served by its governor as Wisconsin
Wisconsin - 12/10/2015 As he reacquaints himself with Wisconsin after three years of positioning himself as a presidential prospect in states such as Iowa and New Hampshire, Gov. Scott Walker traveled to rural northern Wisconsin. The governor announced a plan to expand broadband access for several communities, which was a good thing.

Unfortunately, the plan comes very late, and with far fewer resources than if the governor was serious about developing the economy of Wisconsin....

Ken Notes: ONLY THE MESSENGER!! Alas there are many areas in which we could improve -- and broadband is one for sure. Economic development is another.

It is fair to educate the public on these issues. I prefer not to point fingers but rather offer solutions moving forward. So here are my suggestions:

1) Bring high speed internet to every school in the state. Use this new backbone expand offerings to area businesses.
2)Market Wisconsin products to the world. Ask the Milk Marketing Board to show you how.
3)Restructure and improve WEDC, I have outlined the steps for this often in other publications.
4)Use tax incentives to create new jobs in BOTH new and old businesses.
5)Examine and improve school to work and job training in the state through apprenticeship and working with the Wisconsin Tech and UW systems to expand opportunities.
6)Create a student retention program by offering a tax credit on interest paid on tuition loans in the state.
7)Improve infrastructure to make Wisconsin a hub for the new E-economy.
8)Work with local units of government to address issues rather than try to mandate change from Madison.
9)Create a more open government so the taxpayers have a better idea of what is going one.
10)Work toward improving bipartisan communication and compromise regardless of the vote count.

Pretty simple ideas really and I have no ownership on any of this except the fact that I have said all this before and will continue to advocate for these changes in the future. I hope you keep reading -- and for the record you may call me anything you want as long as you include an idea or two of your own... ...Display And/Or Share This article
Madison needs to build over 1,000 rental units each year to keep up with demand
Madison - 10/8/2015 Think there have been too many large apartment buildings sprouting up around Madison over the past few years?

Turns out, there haven?t been enough.

According to Matt Wachter of the city?s planning and development department, Madison would have to add more than 1,000 apartments a year, indefinitely, to keep up with current demand. And that wouldn?t even begin to address the low vacancy rates that have plagued the city for years and give landlords the upper hand....

Ken Notes: Great read. I think the planners at city hall have been on the right track by requiring these units are built to condo standards because as the millennials age they will learn about equity and seek purchasable units -- in fact if I were in the market I would look for a still discounted condo and invest rather than rent. Financing is loosening up and rates will start to rise eventually... ...Display And/Or Share This article
Consultants share design for Madison Municipal Building renovation - like solving a Rubik`s cube
Madison - 10/22/2015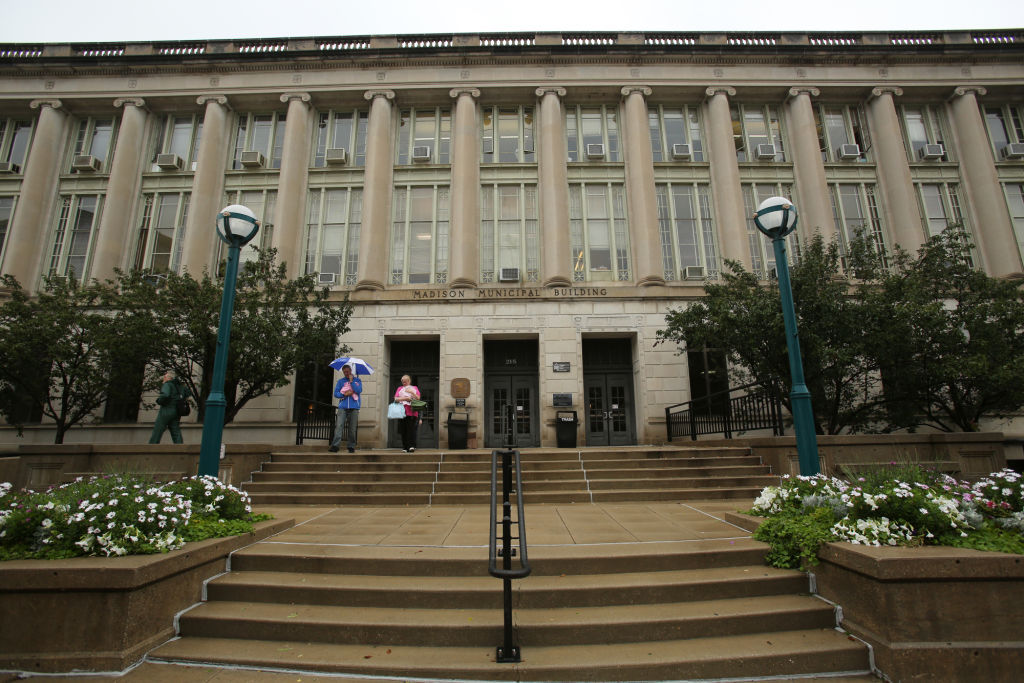 Renovating the stately but worn Madison Municipal Building into an inviting space for staff and the public while preserving the landmark's historic elements is like solving a Rubik's cube, the city's private consultants say.

But the consultants, MSR Design of Minneapolis, are presenting a design that they believe solves the puzzle.

The schematic design, shared with Mayor Paul Soglin and the City Council this week, restores historic qualities, overhauls the building's aged and woefully inefficient mechanical systems and improves staff working conditions, customer experience and public meeting spaces....

Ken Notes: What we need is NEW a Madison Municipal Building and a gateway structure to a new hotel office complex. We will spend less get far mores and have the function we need in our city offices. Also the Mayor is wrong on long term operating costs - you could uses some of the extra money to make the new building a model of energy efficiency and sustainability. MG&E will help along with others I promise. We could even partner with the county and build it across the street. ...Display And/Or Share This article
Students look for affordable housing as roofs, rent prices rise
Madison - 11/12/2015 On the corner of North Bedford and West Mifflin Street, a crane towers over the steel and concrete skeleton of Uncommon, Madison's next apartment complex - just one of the many high-rise housing projects marking the downtown skyline.

According to a recent housing market report compiled by the city, the complexes like Uncommon filling downtown Madison with cranes and beams are actually responding to high demand fueled by incoming young professionals and baby boomers, which has led to rising prices and low vacancy....

Ken Notes: Great Read from the DAILY Cardinal soon to be not so daily which is not a good thing. Real press needs to survive and thrive and I will say so even if it means my demise as an aggregator/blogger. ...Display And/Or Share This article
Madison health IT startup wins national award
Madison - 10/15/2015 Madison healthcare IT startup Redox won a prestigious award at a national healthcare technology conference this week. Redox, which helps app developers get access to electronic health records and health systems manage their connections to the cloud, beat out nearly 100 startups to win a pitch competition at Health 2.0, a leading healthcare technology conference in San Francisco....

Ken Notes: Thumbs Up Niko and George!!!! ...Display And/Or Share This article
WEDC may have illegally awarded $21 million in tax credits
Wisconsin - 11/19/2015 In the latest challenge for Wisconsin`s top jobs agency, its officials awarded $21 million in tax credits to companies but likely lacked the legal authority to do so, the Legislature`s non-partisan budget office and attorneys have concluded.

The finding by the Legislative Fiscal Bureau came in a private Aug. 19 letter to the Wisconsin Economic Development Corp. that the Milwaukee Journal Sentinel is reporting on for the first time.

But other state attorneys from WEDC, the Department of Justice, and the Department of Administration disagree, leaving the question in legal limbo for now. ...

Ken Notes: Arghhh! First I want to thank The WSJ and Cap Times for running my comments - Only thing worse than WEDC is no WEDC. - and I stand by them. But wouldn`t a simple public data base outlining: what was lent, who it was lent to, why it was lent, Where the money came from, and the current status of the loan or grant - make sense. We know that the press, legislature, and others will not rest until every stone is turned, so why not come clean all at once, admit mistakes, correct errors, develop new policy, and get on with the business at hand. The WEDC head has to make a strong statement to save the organization. ...Display And/Or Share This article
Assembly Democrats call for extraordinary session on jobs, economic development
Wisconsin - 12/3/2015 As Wisconsin approaches 11,000 layoff notices issued in 2015, Democrats in the state Assembly are calling for an extraordinary session dedicated to jobs and economic development.

"It's so clear there is a crying need for this," said Assembly Minority Leader Peter Barca, D-Kenosha.

Democrats have criticized their Republican colleagues for calling two extraordinary sessions this year: one to pass right-to-work legislation and another to pass a trio of bills related to campaign finance, ethics and elections oversight. Democrats argue those bills did nothing to help the middle class, while they have suggested more than 15 bills they believe would do just that...

Ken Notes: I will get yelled at by both parties here, but this is partisan finger pointing and not much more. We should have a session on development and jobs and surprise - WEDC should ask for it. They should also provide a program/legislative driven agenda to go with it. Here I start the ball rolling:

1) Incentives should be in the form of tax credits for new jobs created by businesses both old and new.

2) Each county and large city should have an Economic Development professional that is partially funded by and works with WEDC directly. (think UW Extension program)

3) WEDC will create a public data base showing every state, local, and federal dollar invested both old and new, who got it and why, along with the current status of the company, program or project updated quarterly.

4) WEDC will work with the private sector to bring both expertise and opportunity to the marketplace especially in the areas of entrepreneurship, job training, apprenticeship, and market development.

4)WEDC will work with vertical markets to collaborate on promoting their product to a national and international marketplace. (Please use the Wisconsin Milk Marketing Board as an example here)

... Well there is a start - nonpartisan, specific, covers the spectrum from craft beer to high tech, and would return Wisconsin to a leadership role in the nation... ...Display And/Or Share This article
Exact Sciences stock plummets, renewing critique of Judge Doyle Square project
Madison - 10/8/2015 Exact Sciences Corp. shares plunged 46 percent Tuesday, renewing critiques of Madison`s investment to bring the biotech company downtown with the Judge Doyle Square project.

The shares dropped after the company`s non-invasive, DNA-based stool test, Cologuard, was not included as a recommended test for colorectal cancer screening by the U.S. Preventive Services Task Force. It was instead included as an "alternative" test, the Milwaukee Business Journal reported.

In a conference call Tuesday, CEO Kevin Conroy said the decision to omit Cologuard from its draft list of recommended colon cancer screening tests was "different from what we and most people expected," TheStreet.com reported....

Ken Notes: This can change, the medical community has been slow in the past to embrace new technologies. Investors in the field are looking for quick home runs because the market is unstable. They can jump back in as quickly as they left.

The huge question is then, how was ESC financing their growth and staffing levels? If on sales we are good -- if on profit from public offerings not yet banked and they will need to adjust.

Not to poor gas on the flame but they are now below nine bucks from a high of 30... ...Display And/Or Share This article
Mayor Paul Soglin wants answers on decrease in Exact Sciences market value
Madison - 10/15/2015 Mayor Paul Soglin is demanding answers on how the recent sharp decline in the stock value of Exact Sciences will affect the proposed $200 million Judge Doyle Square project, where the company would be a key tenant.

A week ago, the U.S. Prevention Services Task Force issued draft recommendations on Exact Sciences - Cologuard screening test for colon cancer that triggered a large drop in the value of the company's stock. Valued at $18.53 on Oct. 5, Exact Sciences stock dropped to $8.50 by the end of that week. It closed Wednesday at $7.13....

Ken Notes: So do I but it is really none of my business, the developer is the one signing the development agreement so if they are still comfortable then they are on the hook, not Exact Science who is only a tenant -- a very important tenant but still... ...Display And/Or Share This article
New web tool streamlines business startup process
Wisconsin - 10/29/2015 Wisconsin entrepreneurs will have access to a host of new business development resources with the launch of One Stop Business Portal.

The website, a project of the State of Wisconsin, is going live with its first phase today, opening entrepreneurs up to a central hub that can walk them through steps necessary to bringing their ideas to market....
...Display And/Or Share This article
Republican Assembly speaker says he`s receptive to overhauling WEDC
11/12/2015 Republican lawmakers are receptive to overhauling the state's embattled job creation agency after years of problems, including being caught flat-footed by last week's announced closure of Madison's Oscar Mayer plant. Assembly Speaker Robin Vos, R-Rochester, said Tuesday he plans to discuss with Democrats their concerns about the Wisconsin Economic Development Corp. and is interested in addressing sincere, legitimate problems, but he isn't proposing his own plan yet....

Ken Notes: Since I have only been writing about this for seven years, I obviously need a larger platform. Keep reading, WEDC seems to be a theme this week... ...Display And/Or Share This article
MadREP Report: November 18 , 2015
Madison Area - 11/19/2015

Despite Disappointment, Optimism Surrounds Oscar Mayer News
WEDC Insights: International Opportunities in Japan
REGIONAL NEWS
Exploring Entrepreneurship: Do you have what it takes?
Wisconsin Creative Summit - December 3, 10am - 4pm

...Display And/Or Share This article
Emmons Business Interiors
Mary Carbine departs BID
Madison - 10/8/2015 Mary Carbine is leaving the Madison Central Business Improvement District, where she has been its executive director since 2006.

But despite her departure to the Wisconsin Foundation & Alumni Association for a role as its managing director of Alumni Park, One Alumni Place and Pier, next to the Memorial Union, Carbine remains bullish on retail in the BID, which includes State and King streets and the Capitol Square....

Ken Notes: I am a Mary fan. I hope they find someone with the same energy to fill the slot... ...Display And/Or Share This article
As Oscar Mayer news spreads, ripple effects big and small mount for community
Madison - 11/5/2015 At a luncheon last month at Alliant Energy Center, community leaders taking part in a principal-for-a-day event watched a touching video about Oscar Mayer workers changing the lives of Madison East High School students.

The company had adopted the school, and its employees were doing everything from mentoring students in a club for African-American boys to paying for a record number of students in a business club to attend a state competition.

When news hit Wednesday that Oscar Mayer will be pulling out of Madison, East Principal Michael Hernandez thought of all of those connections, plus the sheer human toll....

Ken Notes: Again we are blessed with some time here, so lets start today! We can make thinks work out for the better if we are positive and proactive. ...Display And/Or Share This article
MoolaPitch wants to make investing in Wisconsin startups easier
Wisconsin - 11/12/2015 Invest a few hundred (or thousand, if that's your game) dollars in a startup through a crowdfunding site, see a return. Take that return, survey more investment options. Repeat.

That's the idea behind a Wisconsin startup, MoolaPitch, helmed by a former investment banker.

MoolaPitch, currently in a beta testing phase, is a crowdfunding site designed to help Wisconsin entrepreneurs raise money from fellow Wisconsinites. Due to legal regulations, the company only operates within state lines, a sort of buy local opportunity for the entrepreneurial fundraising community....

Ken Notes: Here is a simple idea for WEDC. Create a Wisconsin Ideas Website that allows startups to post there ideas for investors to view. Vet the projects as to feasibility, degree of progress, and need for funds. Provide contact information and detailed financial data to investors that have secure access based on application and background check. Work with WARF, The UW, Tech, Coworking spaces, and others to identify projects. TRACK THE PROGRESS and RESULTS. The governors business plan contest would be a great place to start. The application process is already on line as well as all the existing application data. If you do not see value in this provide H2Integration a grant and we will have it up and running buy January 1st. ...Display And/Or Share This article
EDITORIAL: Shut down Scott Walker`s WEDC before the next jobs fiasco
11/12/2015 It is completely appropriate to point fingers of blame at politicians and so-called economic development agencies - especially the failed Wisconsin Economic Development Corp. that were asleep at the switch as the Kraft Heinz food-processing conglomerate prepared to shutter its almost 100-year-old Oscar Mayer plant in Madison.

Officials in Iowa and New York had their act together and scrambled successfully to keep production facilities and jobs in their states.

Wisconsin, once again, was playing catch-up....

Ken Notes: I have suggested dramatic change for WEDC since before it was created. But when a company was hinting at leaving Lafayette County WEDC was still my first call. The Lafayette Company stayed and WEDC did help. I do suggest that WEDC should have been in a more communicative. WEDC needs to be fixed and I will not even point to one the articles I have written in the past that suggests this. That said, the only thing worse the the WEDC that we have is no WEDC at all. The ability to direct funds in a timely manner is imperative. A link to federal funds is crucial. Even the communication to the legislature is needed. The BAD: WEDC does not track the loans or grants they make, the communication is partisan, they do not work closely enough with the development professionals or elected officials at the local level, and they shoot their wounded. It is a mess but a strong leader could fix it. Should fix it. And if fixed, it would be a needed tool in a State with few tools at is disposal. The new mantra should be Prioritize, Justify, Track, Communicate... ...Display And/Or Share This article
Madison`s Judge Doyle Square has seen several iterations over 10 years. What will finally click?
Madison - 11/19/2015 It all started with an aging parking ramp.

Repairs were becoming more frequent at the Government East ramp on Block 105 in downtown Madison, bordered by East Doty, South Pinckney and East Wilson streets. Madison officials knew they would soon have to replace the structure, so they began planning for demolition and reconstruction within a decade, a $15 million project.

That was 2005....

Ten years later, the parking ramp is still in use and plans for its replacement along with the development of Block 88, located across South Pinckney Street, a project collectively known as Judge Doyle Square, have seen at least six different iterations...

Ken Notes: First a quick economic lesson. A project of this magnitude with the gaps in financing it contains will need a number of economic engines to succeed. This will include tenants, TIF, loan support, public segments of the project and much more.

None of this is simple and George Austin is well aware of this. It may take even more years to resolve all of this but, it is a huge project and worth getting right. In fact getting it wrong will make the PAC and Terrace seem downright profitable (and for the record, all economic impact included they may well be profitable -- or at least not the drain we see them as). We also have unanswered questions like: What about city hall? How much support is too much support? Exactly what public components are desired? How high can we go? Can we use John Nolen Drive? What tenant or tenants may be able to support the private side of the equation?

If JDS needs to rethink let them. If other have ideas, reopen the door. I would also establish TIF guidelines and a laundry list of public amenities (and as you know I personally would include the City Hall if not the County Building).

I hope when we have the grand opening, I am invited and we have a project that defines Madison. ...Display And/Or Share This article
Kenton Peters has tried for 40 years to build a downtown lakefront park. Is Madison finally ready?
Madison - 12/3/2015 When Kenton Peters' son was growing up in Madison in the 1970s, he'd go watch water ski shows on Lake Monona at Law Park.

Kenton Peters Jr. remembers the setting as a bit strange, watching skiers from a narrow patch of green space as cars whizzed back and forth behind him on John Nolen Drive.

It just seemed weird to have the road and all the traffic back behind you, and then just that little narrow strip of grass, Peters says. We lived over on Lake Mendota, where it was all houses, so if you didn't own a house on the lake, you really couldn't get to the lake. Here you could get to the lake, but you just had a little strip of grass and a highway behind you...

Ken Notes: YES it is! I have been writing and advocating for this for several years now. Google Earth the area and look at Kenton`s model. This will work. The space and a few projects on West Wilson St. would present a great opportunity for a new city hall and public market as well as his vision in fact my challenge to the Mayor and City Council it to add their vision here. We would have access for thousands of people along the shore. The structure would include parking so we can actually increase the green space along the water now covered in blacktop. As for cost -- think parking ramp with some development space on top, on Wilson and on the lakefront. Also by working with the existing buildings we could maintain views and access for far more units than we would ever obstruct. Well done this is a game changer for the city and could offer much for conventions, government, development, park space and public access. ...Display And/Or Share This article
Next steps for the public market
Madison - 12/3/2015 A new friends group has formed to help with fundraising...Just a few months ago it looked like Madison`s long-awaited public market would be delayed until the next decade. Citing other priorities, Mayor Paul Soglin failed to include any funds for the facility in his capital budget. But recent events, including the announcement that the city's Oscar Mayer plant will close in early 2017, spurred city leaders to move the project forward with a pledge of $4.25 million in city borrowing for the $14 million project.

The city`s investment, however, is contingent on securing $9.75 million in additional funding from grants, tax credits and donors. And supporters of the project are mobilizing, forming a fledging Friends of the Madison Public Market group, whose members are ready to step up and raise funds.

"There`s definitely lots of interest from all avenues of the community," says Meghan Blake-Horst, a lead organizer of the new friends group, which already has more than 100 members...

Ken Notes: A lot of great ideas here. The one challenge with a Public Market is the economic drivers to help fund it. If we look at the market as part of a larger project and vision and the project becomes much more reasonable and is easily fundable. Developers are very good at bundling a project so that it all works, we need to think about bundling in the public sector. This is why I believe the City Hall should be a part of the Doyle Square project and also why the Market should be a part of a larger vision. I thus like the district plan. Also there needs to be an umbrella for the project under a 501(c)3 so pledges and contributions are tax deductible now. ...Display And/Or Share This article
Imagine five years from now: Insiders at Cap Times Talk discuss Madison`s growing startup scene
Madison - 12/10/2015 Lighthouses and force fields are perhaps unexpected references at a panel discussion about startup communities.

But both made appearances at Tuesday evening's Cap Times Talk, What Madison does well and could do better for startups.

The hour-long panel, held at downtown coworking hub 100state, covered a variety of topics, from the identity of Madison's startup scene to its relationship with government, but discussions of inclusiveness and retention of talent dominated the conversation....Retaining more University of Wisconsin-Madison students after graduation, as well as twentysomething Epic employees who may be ready to move on, is another goal, according to Greg St. Fort, executive director of 100state.

This is one of the best schools in the world how do you retain that talent?? he asked.

Ken Notes: We need to grow new companies from the ground up as well as expand existing ones. The ideas of attracting out of state businesses is not working as well as we need. In fact we are losing a few large ones as other states consolidate their businesses. ...Display And/Or Share This article
How many new apartments does Madison need?
Madison - 12/10/2015 To longtime Madison residents, the city seems to be experiencing an apartment building boom like never before, yet a recent report from city planners says more than 1,000 new units will be needed each year to keep up with current demand....Is that true, and if so, how should Madison go about meeting that need? The Cap Times will bring together a first-rate panel of experts from multiple points of view to talk about those questions on Tuesday, Jan. 26 at the High Noon Saloon, 701 E. Washington Ave. Cap Times reporter Bryna Godar, who covers city politics and frequently writes about housing and development, will moderate the panel. Its members will be:...

Ken Notes: The real issue is what kind of apartments are we building my talks with Planning suggests that many of these are being built to "condo" standards and could be sold in the future as the economy swings back into a position requiring that equity be a part of everyone`s portfolio. ...Display And/Or Share This article
Finance committee gives final OK to new Hill Farms state office building
Madison - 10/15/2015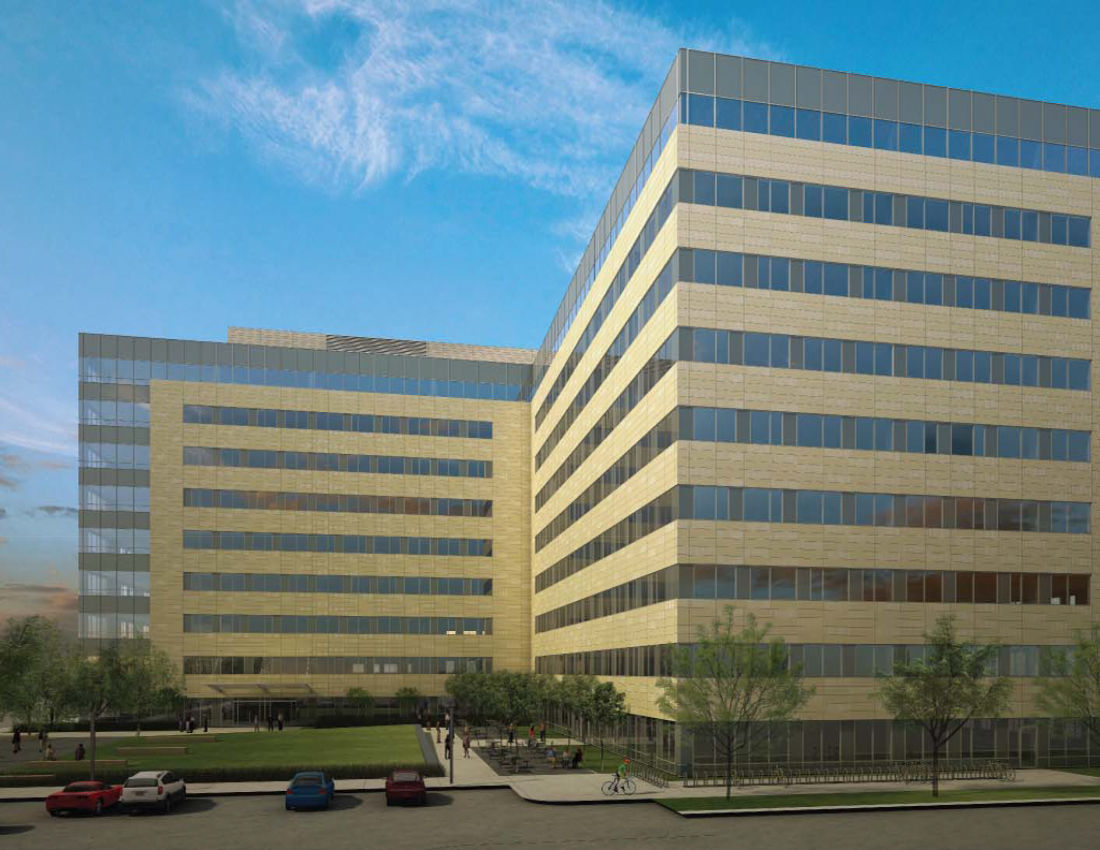 A massive new state office building project on Madison`s West Side passed its final regulatory hurdle Thursday, clearing the way for groundbreaking on the $177 million project in the coming weeks.

The Legislature`s Joint Finance Committee approved the sale of 13.87 acres of the Hill Farms site and 4.35 acres at 801 W. Badger Road, both of which would be developed privately as part of a master agreement with developer Smith Gilbane. The committee voted 14-1 with one member absent....

Ken Notes: No property tax so we now need the area around this development to prosper. Also we need to have a HUGE implosion party for the current building -- fireworks -- brats -- beer -- live tv -- celeb at the plunger (Bob Uker??) -- I digress... ...Display And/Or Share This article
Warrants allege Green Bay businessman defrauded WEDC for more than $1 million
Wisconsin - 10/15/2015 A Green Bay businessman is under criminal investigation for allegedly defrauding the state's job creation agency of more than $1 million, according to search warrants obtained by the State Journal.

Ron Van Den Heuvel has not been charged with a crime, but he is suspected of committing theft and securities fraud against several parties, including the Wisconsin Economic Development Corp., according to six search warrants the Brown County Sheriff's Office executed at Van Den Heuvel's home and businesses in De Pere and Ashwaubenon in July....

Ken Notes: OUCH! We have to create a VERY PUBLIC data base of all WEDC loans, grants, and expenditures. We must track the current status of every penny. We have to have LOCAL field representatives doing some of the due diligence withe their reports and records on file. The process is too political and too closeted. That said I STILL support the ideas and mission behind WEDC. Why? because run correctly we can use the organization to create a level playing field supportive on new business, growing old businesses, and JOBS... ...Display And/Or Share This article
OPINION: Public market should not be a priority
Madison - 10/29/2015 Regarding the mayor`s obsession with a public market, if it`s such a great thing, wouldn`t some developer be all over it?

Seems like this is another Monona Terrace or Overture Center -- a city-run money pit disguised as a city amenity that should be further down the priority list....

Ken Notes: The answer here is simple -- the private sector would do a public market if they could afford the land and had tax incentives that come with a PUBLIC market. Give me land and parking in Central Park, no property tax, and I will bring a developer to the table tomorrow to build it. It is a partnership between the community and the developer that makes a PUBLIC market work... Get it?? ...Display And/Or Share This article
City banking on Exact Sciences Corp. to deliver for Judge Doyle Square
Madison - 10/1/2015 In committing to the massive Judge Doyle Square project, Madison is investing not only in its Downtown; it's also banking on the continued growth and market dominance of the project's principal tenant, Exact Sciences Corp. In a 12-6 vote with one member absent and another recusing himself, the City Council approved an agreement with JDS Development at 3:15 a.m. Wednesday. The $200 million redevelopment relies on $46.7 million in public investment, including a $12 million grant to Exact Sciences to help it create at least 400 jobs Downtown. Given the company's explosive growth since developing the first and only FDA-approved noninvasive stool DNA screening test for colorectal cancer, it's a bet the council was willing to make....

Ken Notes: They should continue to grow, if they continue to find less invasive cancer detection and other tests and treatments they will grow exponentially. They are monetizing these discoveries as well... ...Display And/Or Share This article
Green Bay businessman denies fraud involved in state loan
Wisconsin - 10/15/2015 A Green Bay-area businessman suspected of defrauding Wisconsin`s economic development agency says he`s behind on loan repayments to the state but hasn`t committed any crimes....
...Display And/Or Share This article
New Wisconsin business portal to streamline state paper trail
Wisconsin - 10/22/2015 Prospective small-business owners who find working through Wisconsin government forms a bit daunting have a new tool to help get their dreams rolling.

Gov. Scott Walker on Wednesday announced the launch of One Stop Business Portal on Wednesday, an online site that`s a joint venture of the state and the Wisconsin Interactive Network.

The portal, OpenForBusinessWI.com, pulls in forms from the Department of Financial Institutions, the Department of Revenue and the Department of Workforce Development so business neophytes have a streamlined way of getting their businesses up and running....

Ken Notes: Cool I wrote about needing this in a series of articles in 2007. I do like the site!... ...Display And/Or Share This article
City waits for JDS developer`s answers after Exact Sciences stock drop
Madison - 10/8/2015 Video report here...
...Display And/Or Share This article
Assembly passes Lambeau Field tax return bill
Wisconsin - 10/29/2015 The state Assembly has approved a bill that would return $17 million in excess Lambeau Field taxes to Brown County taxpayers and local government. The bill passed Tuesday calls for 25 percent of the money to go to Brown County. The county`s municipalities would use the rest to lower property taxes, debt relief or for economic development. The Assembly approved the bill 89-2. The Senate passed it in September and it now goes to Gov. Scott Walker....

Ken Notes: Like this partnership... ...Display And/Or Share This article
Findorff - Character Community Craftsmanship

Findorff, builders of Wisconsin's finest projects... ...Display And/Or Share This article
UW is (finally) learning how to push its research to market
Wisconsin - 10/15/2015 This could be big for UW-Madison. It's exactly the sort of transformative discovery you would expect from a great research university. Like Harry Steenbock fortifying the vitamin D content of milk. Like James Thomson unlocking the mystery and promise of stem cells. In this case, two UW researchers have pioneered a breakthrough that could end the flood of human antibiotics into animal feed....

...In an expansive moment, Biondi summed up the university's challenge and its promise.

We've got cool stuff here at the university. We just have to continue to make companies out of it, - he said. You know, we're learning. We don't have it figured out yet, but we're putting some stuff out that's pretty damn cool. It's not just another mobile app or a consumer doodad. It's stuff that makes a difference for society.-...

Ken Notes: READ THIS ARTICLE! The UW can easily place Wisconsin back at the front of the research & development pack -- And they can do it in WISCONSIN. The legislature should help a little or get out of the way. WEDC needs to reform to offer opportunities for funding based on jobs and growth. (I may have mentioned a tax credit program). Finally WARF encourages businesses in Wisconsin to use the vast resource of patents and ideas to develop product in Wisconsin. This is !@#$ near perfect!!! ...Display And/Or Share This article
Developer study: New arena should be part of new destination at Alliant Energy Center
Madison - 10/29/2015 A new multipurpose arena that would replace the aging Dane County Coliseum and new areas for retail, entertainment, dining and hotels are part of a recommended plan for the county that would turn the Alliant Energy Center complex into a $500 million destination development.

The plan was one of three options included in a new study by Hammes Co. that outlined the future options of the complex and its past and present problems that have made it a financial burden for the county....

Ken Notes: I agree -- but keep reading because how we pay for this is an issue. Also do we want a new arena or improvements and better marketing for what we have now. I want to become the best place in the world for livestock, farm, and food shows. I agree, we can not afford to loose money but would ask how do we want to make money! I would once again like to throw an urban campground into the mix like at State Fair Park. Also I think we need to tie all of our venues into one marketing arm so an AEC event might have a dinner at the Terrace or a concert at the the PAC. Also we lack hands on training facilities in the city for mini EPICs to train customers or host demonstrations... ...Display And/Or Share This article
Venture capitalists nod to Epic, UW-Madison for Madison`s burgeoning startup scene
Wisconsin - 11/5/2015 Venture capitalists are optimistic about Madison's future as a startup hub, according to a panel of experts speaking at the Wisconsin Early Stage Symposium on Wednesday.

I think there's a high number of scrappy, quality companies based here, said Ablorde Ashigbi, of Pritzker Group Venture Capital, a Chicago-based venture capital company. We think there's a significant amount of opportunity here that isn't being covered like Silicon Valley.

Ashigbi said he's spent quite a bit of time scouting Madison-based startups over the past couple months about five visits in the last 60 days....
...Display And/Or Share This article
Building a coworking community
Madison - 11/12/2015 Gregory St. Fort is a New Yorker, through and through....By November 2014, St. Fort had joined 100state, at 30 W. Mifflin St., an entrepreneurial gathering space that calls itself Wisconsin's largest coworking community, and in September, he took the helm as executive director.

It's a place where members can rent space ranging from a laptop-sized spot at a long table to an individual, private office.

Ken Notes: I now work out of 100State a few days a week (easy to spot I am the OLD guy). The energy, enthusiasm and entrepreneurship is fantastic. I leave energized, I used to work for a previous governor and I left the Capitol drained. We need creative thinking on the hill as well as across from it. Thanks Greg for letting me play in your sand box... ...Display And/Or Share This article
Grant program to aid retail progressing; support urged for grocery store
Madison - 10/1/2015 Efforts to retain and improve retail space along the State Street corridor, around the Capitol Square and on King Street could soon get a boost from the city.

A proposed grant program working its way through city committees would make available $540,000 over the next two years for interior improvements to businesses in the designated area, that roughly matches the Downtown Business Improvement District.

The goal of the program, capped at $50,000 per applicant, is to improve retail space and make it viable for future retail tenants, too. The program is open to both building owners and tenants with leases of more than five years....

Ken Notes: Another downtown grocery on State Street may work, but we need to get our groceries home so parking is in the mix and State Street is expensive. There are a few chasing the Trader Joe`s model and this could be a winner for State Street. I like Sendik`s Market MKE, Pete`s Fresh Market CHI, and others. But if the mayor wants a home run ask Tim Metcalfe to anchor a Public Market on State Street. Allow space for pop-up retail and other temporary markets and I promise State Street will be on everyone`s list of cool places. We could go up over the Johnson Street ramp and not to complain -- but if we had been on our toes we could have use the old BOP space instead of Hop Cat - Nothing against Hop Cat... ...Display And/Or Share This article
Mayor Paul Soglin proposes $289 million operating budget for 2016
Madison - 10/8/2015 Mayor Paul Soglin proposed a $289 million stay-the-course budget Tuesday that he said preserves basic services, provides raises for city workers and extends more opportunities to the poor and minority residents while coming in under state levy limits. The budget, which raises property tax collections by 3.24 percent overall, would cost the average homeowner about $65.65 more in property taxes to the city....
...Display And/Or Share This article
Housing is key to a vibrant Downtown
Madison - 10/8/2015 In -Two Minutes with Mitch- local radio personality Mitch Henck gives his two cents on the latest developments on the Judge Doyle Square project in Downtown Madison...

Ken Notes: He is half right -- but part of development is the economic engines that drive growth. Creating more vibrant nightlife and retail centers is a good idea and there is lots of room for more housing but balance is the key.

If we really want a vibrant downtown we should start with a TRANSIT system that is tourist and business friendly. I can not believe that the hotels and convention centers are not all over this...I need two more minutes... ...Display And/Or Share This article
Will D2P be the key to unlock UW-Madison`s potential as an economic engine?
Madison - 10/15/2015 UW-Madison chancellor Rebecca Blank's Discovery 2 Product initiative, D2P, may be the catalyst to transform the university into a real economic engine, Marc Eisen writes in Isthmus.

D2P, led by start-up veteran John Biondi, has the business perspective to overcome the resistance of academics and the indifference of university administrators, say observers....
...Display And/Or Share This article
Mallards executives near deal to manage Breese Stevens Field
Madison - 11/19/2015 In the last five years, Vern Stenman and Conor Caloia have had a hand in refurbishing old stadiums around Wisconsin.

Now they`re ready to take on a similar challenge closer to home.

Big Top Baseball - a partnership that includes longtime Madison Mallards executives Stenman, Caloia and founder Steve Schmitt - is in final negotiations with the city of Madison over a lease contract through which Big Top will manage operations of Breese Stevens Field on the near east side....

Ken Notes: They have resources, staff, ideas, and proven talent. Since you need new restrooms and will have sporting events, why not showers that could be used AND MAINTAINED by the homeless. They stay nice and clean or are closed to the public. ...Display And/Or Share This article
Household income takes sharp downturn in most of Wisconsin
Wisconsin - 12/3/2015 Median household income fell by a significant margin in two-thirds of Wisconsin counties from 2009 to 2014, according to figures released Thursday by the U.S. Census Bureau.

In Milwaukee County, the median income fell by 10.3% to $43,385. Waukesha County, which had the highest median income in the state at $76,319, saw a 7.1% drop. Washington (-5.2%), Ozaukee (-7.7%) and Racine (-7.9%) counties all experienced declining incomes, as well....

Ken Notes: This is not good. We need to refocus on good jobs, education and training. We can turn this around with a real effort and less of the political rhetoric that has us focused on some issues that should be way down on the scale of importance. Lets start a JOBS party... ...Display And/Or Share This article
Ho-Chunk Nation envisions sports complex
Madison - 12/3/2015 Can you see it? Dan Brown certainly can. The executive manager of Ho-Chunk Gaming Madison has held a vision for many years to develop 47.75 acres of vacant, tribally owned land adjacent to the casino. With all that undeveloped land and money to build, it's just a matter of finding the big idea and the right partners. We considered building a big-box retail store, an industrial park and even a corporate headquarters, says Brown, who hired Urban Assets, a local planning and community development firm, to conduct a high-level study on what type of development made the most sense for both the Ho-Chunk Nation and the city of Madison. At the end of the day, we are looking for a regional destination,...

Ken Notes: Smart move on their part... ...Display And/Or Share This article
Dane County towns split on bill that would allow opt-out of county zoning control
Dane County - 12/10/2015 Eight Dane County towns have formally opposed a state bill advocated for by Dane County Towns Association leadership that would allow towns to opt out of Dane County`s zoning authority. The proposed legislation is among a handful of bills scheduled for public hearings today before the Assembly`s Committee on Housing and Real Estate, but prior to its hearing, leaders from the towns of Dunn, Cross Plains, Montrose, Perry, Christiana, Oregon, Pleasant Springs and Springdale sent a letter to Chairman Rep. John Jagler, R-Watertown, opposing the bill....
...Display And/Or Share This article
WSJ Business Roundtable: Affordable housing is needed but a challenge to build
Madison - 12/10/2015 Affordable housing is needed in Dane County, but creating enough to not only offset current growing demand but also help catch up from a lack of building activity during the Great Recession is a challenge. That's according to a panel of affordable housing experts who discussed the issue during a recent Wisconsin State Journal Business Roundtable discussion....

Ken Notes: Affordable requires a partnership between the community and the developer... ...Display And/Or Share This article
Building permits show little slowdown for Madison apartment projects
Madison - 10/22/2015 New apartment construction is still going strong in Madison.

In the 12-month period ending Sept. 30, the city approved 30 permits for new construction of buildings with five or more housing units - the city`s designation for apartments. That`s unchanged from the 12-month period ending Sept. 30, 2014.

According to the permits, those buildings approved in the last 12 months include 1,804 individual apartment units, a decrease from the 12 months before but still well above the total for most other years....

Ken Notes: Much data at the link!!! ...Display And/Or Share This article
County Executive Joe Parisi does not support expensive new plan for Alliant Energy Center
Dane County - 10/29/2015 Dane County`s top elected official will not support a recommended private-public redevelopment plan for the Alliant Energy Center, saying the $117 million price tag for the county is unaffordable.

Spending all that money for a concert venue is a nonstarter for me, Dane County Executive Joe Parisi said Tuesday, a day after the release of a study by the Hammes Co. recommending that the county spend that amount to replace the aging Dane County Coliseum with a new arena, add a parking ramp and improve Exhibition Hall....

Ken Notes: I like that he is looking at this in light of other projects. I believe we can get this right with a little more discussion. Has the World Dairy Expo been involved in the process yet? ...Display And/Or Share This article
Developer very hesitant to continue if Madison opens Judge Doyle Square for new proposals
Madison - 11/19/2015 One of the four developers that submitted proposals for the major Judge Doyle Square redevelopment process in May has sent a letter to city officials urging them not to open the process to new developers again, suggesting it might not continue in the process if that happens.

From Chicago-based Vermilion Development president David Cocagne, the letter notes the divergences the city has taken from its original process and says if the city moves to accept new proposals again, his company will be 'very hesitant' to continue.

Madison sent out a request for proposals in March 2014, receiving four proposals from Beitler Real Estate Services, Vermilion Enterprises, JDS Development (a joint venture of Hammes Company and Majestic Realty Co.) and Doyle Square Development (a joint venture of Urban Land Interests and North Central Group)....

Ken Notes: Even though only a proposal, there is a cost to putting together a serious proposal. If the original four want to move forward with out reopening the process, ask for two things: one an in the dirt by date, and two a performance bond upon a developers agreement being signed. ...Display And/Or Share This article
Engineered Construction Inc. / General Contractors

As always your go to resource for 24/7 Emergency Fire & Water Damage/Extraction!
24 HOUR IRP IMMEDIATE RESPONSE PROGRAM NUMBER (608) 657-2437 ...Display And/Or Share This article
Kettle Park West Commercial Center Moves Forward!
Stoughton - 10/1/2015 Verona-based Forward Development Group announced the successful completion of the real estate transactions necessary to launch the Kettle Park West Commercial Center, a long-planned development in the City of Stoughton.

The Kettle Park West Commercial Center is the cornerstone of the planned mixed-use neighborhood located on the city`s west side at the intersection of US Highway 51 and State Highway 138. With today`s real estate closing, we have satisfied all of the conditions in the development agreement with the city, allowing the project to move forward, said Dennis Steinkraus, development manager at Forward Development Group. Construction of the streets and utilities for the new development will begin in September and is expected to be completed by the end of 2016.

The project is anchored by a 152,000 square foot Walmart Supercenter. The first phase of the project...

Ken Notes: Talked to Dave yesterday and they are in the dirt!!! ...Display And/Or Share This article
Madison-Kipp Corp. announced $3.5M expansion in Sun Prairie
Sun Prairie - 11/5/2015 The project will include an estimated $3.5 million in construction and will consolidate off-site warehousing as well as add additional manufacturing space, according to a release. The city of Sun Prairie is providing TIF assistance to reimburse the developer for $274,000 for several onsite improvements, which is one of the reasons the location was selected, officials said....
...Display And/Or Share This article
No daily newspaper left at UW-Madison as Cardinal cuts production
UW Madison - 11/12/2015 The Daily Cardinal plans to cut production of its print edition to two days per week, leaving UW-Madison without a daily student newspaper only a few years after the campus had two of them.

The Cardinal will print on Mondays and Thursdays next semester, dropping from four editions per week as part of a shift that will see the 123-year-old company focus more on its web and mobile products, editor in chief Jim Dayton said....

Ken Notes: Nooooooooooooo.... ...Display And/Or Share This article
Cap Times and 100state to host panel on growing, improving the Madison startup scene
Wisconsin - 12/3/2015 Tuesday, Dec. 8, at 6:30 p.m. at 100state

Though Wisconsin is ranked 50th in the country for startup activity, the Madison startup scene is growing. Startup hub 100state now houses a wide array of budding businesses from the guerrilla marketing Startup Rangers, to a startup aiming to bring yoga to educators and a company that recently visited the White House.

Gener8tor, a startup incubator based in Madison, has been named one of the top incubators in the country. And StartingBlock, a startup hub set to open on East Washington Avenue next year, has raised millions for its construction.

Now`s the time to talk about what Madison is doing right in the startup space - and what it can do better...
...Display And/Or Share This article
Plan Commission signs off on 8Twenty Park affordable housing proposal
Madison - 12/10/2015 .An affordable housing development for South Park Street moved a step closer to final approval on Monday.

After nearly two hours of a public hearing and discussion, Madison`s Plan Commission approved developer J.T. Klein Company`s revised plans for a 95-unit apartment building at 820 S. Park St. and associated zoning changes...

Ken Notes: Read this we negotiated a better project for a change... ...Display And/Or Share This article
Student loan refinancing bill set for Wednesday hearing
Wisconsin - 10/8/2015 A bill that would make Wisconsin the first state to allow student loans to be refinanced at lower interest rates will be given its second public hearing in as many legislative sessions on Wednesday.

The bill would create a Wisconsin Student Loan Refinancing Authority, modeled after the Wisconsin Housing and Economic Development Authority.

The authority would be charged with creating a system to buy federal and private loans and refinance them at lower rates. Under the bill, borrowers would also be able to deduct student loan payments from their income taxes....

Ken Notes: All good ideas. I proposed something similar a few years back. I would have allowed the interest on student loans to offset actual state tax payments. This would make borrowing for student loans interest free as long as you stayed in the state... ...Display And/Or Share This article
Madison Metro Transit adds another bus to Epic Systems campus route as ridership climbs
Madison Area - 10/15/2015 Every weekday morning, young professionals, many of them wearing ear buds, line up at Madison Metro bus stops throughout downtown Madison to catch the 35-minute ride out to healthcare software company Epic Systems in Verona.

The route 75 bus runs four times each morning, starting with a loop around the Capitol Square and heading down West Washington Avenue to Broom Street, where an orderly line sometimes stretches across the sidewalk and into a neighbor's yard.

By the time it reaches Broom - less than one mile into its route - few, if any, empty seats are left on the bus....

Ken Notes: This is good but we really need to revisit the entire transit system in the interest of making it business, tourist, and commuter friendly. I wrote about this in 2010 and the article and ideas still hold up today. If Madison wants to take the next step in becoming an urban hub for entrepreneurship, conventions, and tourism -- transit has to be on the table. ...Display And/Or Share This article
Wisconsin Democrats recuse themselves from vote on GOP campaign finance bill
Wisconsin - 10/22/2015 Democrats in the Wisconsin Assembly recused themselves en masse from a Wednesday evening vote on a contentious GOP proposal to reshape the state`s campaign finance laws. The bill passed shortly before 8 p.m. with the unanimous support of the chamber`s Republican members, with no Democrats casting votes.

The minority party has staunchly opposed the bill from the outset, arguing it would open the door for corruption and expand the influence of money in politics. Democrats cited state statute 19.46, which prevents public officials from "taking any official action substantially affecting a matter in which the official ... has a substantial financial interest."...

Another article on the subject is here: Wisconsin Assembly debates campaign finance laws, GAB overhaul

Ken Notes: The door is wide open now with the laws governing PAC`s. This bill is an attempt to bring some of that money under the tent openly so the revenue is more controlled by the candidate. I am NOT a fan of the legislation but I am not a fan of the current system either. What we really need is to address the issue by allowing a level platform for all candidates to clearly state their positions on the issues. Lets get the media to create a Website where candidates can post their current positions on questions posed by the media. Limit the response to say 100 words, allow all registered candidates to participate and allow any media outlet to quote from the site. You would have a virtual debate with no grandstanding or misdirection available to the public and the press. I could have this up in a weekend... ...Display And/Or Share This article
Democrats join Assembly Republicans in approving $350M in borrowing for roads
Wisconsin - 11/5/2015 All four Democrats on the Legislature's budget committee joined six Assembly Republicans on Wednesday to approve borrowing $350 million for big-ticket road projects including the Verona Road/Beltline Highway project and widening Interstate 39/90.

Six Senate Republicans voted against the plan.

At the same time, Democrats slammed Gov. Scott Walker and the Republican majority for not developing a long-term plan sooner to pay for major road projects, including raising the state's gas tax....
...Display And/Or Share This article
MGE to add renewable power and reduce harmful emissions in 15-year plan
Madison - 11/19/2015 Madison Gas & Electric says it will add solar or wind power and will further reduce harmful emissions from its power plants as part of a plan for the next 15 years.

The Madison utility company also says it will not ask for a hike next year in the fixed rate that customers pay for electricity - an issue that sparked citizen protests in the summer of 2014.

The proposals are part of MGE's Energy 2030 plan, a framework for meeting the area's energy needs through 2030, released on Wednesday....

Ken Notes: When MG&E contacted me about the rate hikes they promised that they were committed to clean energy. This plan is a huge step in fulfilling that promise. Much more on this Monday in WDNGreen.com... ...Display And/Or Share This article
Central Wisconsin can empathize with loss of Oscar Mayer
Wisconsin - 11/19/2015 The paper mill, owned by Canadian-based Domtar since 2001, has been a fixture in this community of just over 2,500 people since 1883. But over the last 15 years, Beaver has watched as the state's paper industry has shed thousands of jobs and in some cases, closed mills....Manufacturing is one of the pillars of the state's economy but dozens of communities around the state have seen large, legacy employers close or leave the state over the last 30 years. They include the General Motors Assembly plant in Janesville, Uniroyal in Eau Claire, Mirro Aluminum Company in Manitowoc and Kenosha Engine Company in Kenosha...

Ken Notes: It does seem we are not in tune with our existing businesses. I would think keeping and growing these is just, if not more, important then attracting new companies... ...Display And/Or Share This article
Wisconsin Companies Invited to Join Trade Venture to Germany
Wisconsin - 12/10/2015 Business development trip coincides with the world?s premier industrial technology trade show, financial assistance available for small businesses to help with exhibit costs

MADISON, WI, Dec. 10, 2015 ? The Wisconsin Economic Development Corporation (WEDC) invites companies to join the Wisconsin delegation at Hannover Messe, the world?s leading industrial technology event, taking place in Germany in April.

Participation options include taking part in WEDC?s global trade venture to explore export expansion opportunities and subsidized tradeshow exhibition space at the show for small businesses that meet certain criteria....
...Display And/Or Share This article
OPINION: Dane County Coliseum ripe for remake
Madison Area - 10/29/2015 The Dane County Coliseum was a state-of-the-art concert venue when the likes of Frank Sinatra, Bob Hope and The Doors performed there in the late 1960s.

A lot has changed since then, and the Coliseum hasn't kept up. The big shows rarely come to the outdated facility along the city's South Side.

A task force report this week points toward rebuilding the arena to invigorate the larger Alliant Energy Center property with private investment.

We're not about to endorse a more than $100 million public investment, given the preliminary nature of the report's findings and suggestions. Another option, the report notes, is renovating the existing building at substantially less cost....

Ken Notes: We may even be on the same page here, but I want to know if cows and Imagine Dragons fit in the same space and why are we not seeing more music events in the Kohls center. P.S. saw Dragons this summer and we need to book them! ...Display And/Or Share This article
City gives JDS Development/Exact Sciences Corp. brief delay to exp(l)ain impacts of drop in stock value on Judge Doyle Square project
Madison - 10/29/2015 Mayor Paul Soglin is giving JDS Development and Exact Sciences Corp. more time to explain how a recent sharp decline in the stock value of Exact Sciences will affect the proposed $200 million Judge Doyle Square project, where the company would be a key tenant.

JDS/Exact Sciences was supposed to submit much-anticipated answers on Wednesday, but Soglin is granting a request from the developer and growing biotech company to submit a report on Monday.

The mayor's office sent out a brief statement on the delay on Wednesday with no explanation beyond the request from JDS/Exact Sciences....

Ken Notes: Deep breaths... Can I point that the WSJ had a typo in the title of this article. It does not offset my dozens per week but it does help... ...Display And/Or Share This article
MadREP Report December
Madison Area - 12/3/2015 ...Community Highlight: Rising Tides in Watertown ... WEDC Insights: International Opportunities in United Arab Emirates... REGIONAL NEWS ...Evansville I&E Club December 9, 6:30pm Creekside Place, Evansville...The Future Wisconsin Economic Summit 2015 December 9, 8:30am-3pm Monona Terrace, Madison ...2015 BioForward Annual Member Meeting December 9, 5-7:30pm Wisconsin Institutes for Discovery, Madison ...Funding Opportunity: Idle Industrial Site Competition Deadline: December 11...gener8tor Madison 2016 Early Application Deadline: December 13 Final Deadline: January 2 ...Request for Proposals: Entrepreneurship & Small Business Development Resource Fund Deadline: December 21, 2pm...
...Display And/Or Share This article
MIG Commercial Real Estate
1/8/2015
MIG Commercial Real Estate is a multidimensional development and private investment company. It builds new, renovates existing and leases class A office buildings for business and commercial tenants. ...Display And/Or Share This article
Apple could owe UW-Madison $862M in patent lawsuit
UW Madison - 10/15/2015 A federal jury found on Tuesday that Apple Inc. could owe the University of Wisconsin-Madison up to $862 million in damages after it used technology owned by the university's licensing arm without permission in chips found in iPhones and iPads. The Wisconsin Alumni Research Foundation (WARF) sued Apple in January of 2014 for alleged infringement of its 1998 patent that improves processor efficiency. The U.S. District Court jury in Madison had to determine if Apple's A7, A8 and A8X processors, which can be found in iPhone 5s, 6 and 6 Plus and several versions of the iPad, violate the patent. Court papers indicate Apple contended the patent is invalid, but the jury found otherwise....

Ken Notes: Lets cut a deal for 100 million per year over ten years and student computers at cost for the same time-frame. Everyone wins and Apple becomes a UW supporter for at least a decade... ...Display And/Or Share This article
Don`t subsidize Judge Doyle Square
Madison - 11/5/2015 The recent setback to the Judge Doyle Square project has solidified my opposition to using any more tax dollars to subsidize Downtown private projects.

We have already spent enough public money, maybe more than enough, on Downtown. If private investors wish to develop Judge Doyle Square, fine. Let them do so with private money. Let them take the risks, and make the profits -- if any. I suspect Downtown investment has reached the diminishing returns level, but let`s let private investors decide this....

Ken Notes: Remember TIF is designed to be a "but for" gap solution. The site will be difficult to develop and there are a number of gaps and needs to addressed. So TIF becomes a solution NOT a subsidy. I continue to believe if The City Hall Building (and the County Building for that matter) is not on the table as a part of the project the square becomes that much more difficult to develop. There are great opportunities out there but you need to all the options and solutions, pick one and address the gaps in financing and the value of that investment to the community. ...Display And/Or Share This article
OPINION: City should pursue Downtown dream
Madison - 11/12/2015 Madison has a rare second chance to save Downtown Madison.

Now that Exact Sciences has pulled out of the Judge Doyle Square project, it is time to get started making the area between the Capitol Square and Lake Monona every bit as electric as State Street with a better view.

Renaissance man and veteran architect Kenton Peters believes as I (Mitch Henck) do that people have to live Downtown to have vibrant energy at all hours of the day....

Ken Notes: Peters has some great ideas. Monetizing them will be the challenge and one I hope we look at. I am a fan of building over John Nolen and growing the downtown. I firmly believe we need a new City Hall that is both functional and aesthetic. We also should throw other building into the mix, DHFS, the County Building and others... ...Display And/Or Share This article
Cap Times reporter Bryna Godar talks Judge Doyle Square on WORT
Madison - 12/3/2015 The ambitious downtown project now known as Judge Doyle Square has been through multiple iterations over the past decade, including parking, a hotel, a train station, a public market and headquarters for biotech company Exact Sciences Corp.

After a deal with Exact Sciences and developer JDS Development fell through in early November, the city returned to three other developers who submitted proposals for the project in May...

Ken Notes: I like WORT but we need these discussions on our TV News and in the large state newspapers, the idea of the internet and public supported outlets replacing mainstream media is fraught with problems. And I am an internet based publicly supported outlet... ...Display And/Or Share This article
Landlord-tenant bill draws concerns from city officials throughout Wisconsin
Wisconsin - 12/10/2015 A wide-reaching bill regulating the rights of landlords, tenants and municipalities is set for a public hearing in front of an Assembly committee Thursday, about a week after it was introduced.

The bill has drawn objections from city officials and tenants` rights advocates, while two regional apartment associations are registered to lobby in favor of it.

Its authors, Sen. Frank Lasee, R-De Pere, and Rep. Rob Brooks, R-Saukville, described it in a cosponsorship memo as "a technical bill designed to make it easier for landlords to provide Wisconsin residents with quality housing." ...

Ken Notes: I am confused don`t we need to work with the local communities to create the best housing markets for there communities? ...Display And/Or Share This article
Increased demand packing UW-Madison computer science classes
UW Madison - 10/1/2015 A growing appreciation for the value of learning how to code has led to skyrocketing enrollments in computer science courses at UW-Madison that are stretching resources, says department chairman Mark Hill.

Classes once populated by students majoring in computer science or closely related fields like engineering or physics now include those preparing to do research in any number of science fields or prepare for careers in business, journalism and many other areas, Hill said....

Ken Notes: Now we need to keep them in the state after they graduate. We (UW Milwaukee) trained the CEO of Microsoft, and other fortune 500 companies now lets work with them and others to create jobs in the state. ...Display And/Or Share This article
Cap Times and 100state to host panel on growing, improving the Madison startup scene
Madison - 10/8/2015 Though Wisconsin is ranked 50th in the country for startup activity, the Madison startup scene is growing. Startup hub 100state now houses a wide array of budding businesses from the guerrilla marketing Startup Rangers, to a startup aiming to bring yoga to educators and a company that recently visited the White House.

Gener8tor, a startup incubator based in Madison, has been named one of the top incubators in the country. And StartingBlock, a startup hub set to open on East Washington Avenue next year, has raised millions for its construction.

Now`s the time to talk about what Madison is doing right in the startup space ? and what it can do better.

The Cap Times and 100state will host a Cap Times Talk, "What Madison does well ? and could do better ? for startups," on Tuesday, Dec. 8, at 7 p.m. at 100state, 30 W. Mifflin St. The panel will be preceded by a meet-and-greet starting at 6:30 p.m....

Ken Notes: I am now a member of 100State and think they can do much for startups in the area, but the real key will be legislative efforts to keep graduates and entrepreneurs in the state. ...Display And/Or Share This article
UW-Madison launching major fundraising campaign
Wisconsin - 10/15/2015
With alumni returning to campus for Homecoming weekend, UW-Madison is set to announce the public launch of a major multi-year fundraising campaign Thursday night.

Called the Comprehensive Campaign, it will be the fourth and, Chancellor Rebecca Blank says, most ambitious such drive in UW-Madison`s history, with the goal of raising an amount of money officials have not yet publicly disclosed to support students and faculty at the university....

Ken Notes: I here Apple is considering a MAJOR contribution... ...Display And/Or Share This article
Let`s move ahead on day resource center for the homeless
Madison - 10/22/2015 Here Dane County government is again, talking about a daytime resource center. Honestly, I've lost count of how many times it feels like we've finally got something going. I'm sure at this point many of us know why this dream is one we've pursued for so long. Homeless folks have no place to stay during the day. Wisconsin winters are brutal enough as it is. The time and money it takes to travel and find all the various services available to homeless folks is a full-time job....

Ken Notes: I half agree, but the real value in this corridor is height and my guess is that they (the county board) could trade the air space to a developer in exchange for a completed facility with showers, laundry, storage, day space, and a storm/weather shelter. Allowing the cultures to coexist is good for both as well. You will get better design, function, and appearance from those working to protect their interest in the entire site. Just a thought... ...Display And/Or Share This article
Is food tech Madison`s next startup trend -- Industry
Madison - 10/29/2015 The Madison area is known for its health IT startups, but there may be another game in town soon, according to some industry insiders: food tech, technology that connects users with their favorite restaurants and grocery stores.

Tom Still, director of the Wisconsin Technology Council, asked a set of panelists on Tuesday afternoon in Madison if they thought Madison ? or Wisconsin in general ? could become a hub for restaurant and grocery store-focused technology companies....

Ken Notes: Madison needs incubator space for several vertical markets we have IT, CoWorking, and Manufacturing and design -- but wet lab, food research, food prep/kitchen, and other science related spaces are expensive and hard to come by. Our grads with great ideas are forced to work for large bio or food companies so the have the space needed to be creative. Working out of 100 State has introduced me to a number of very bright people with good ideas and no lab space to grow... ...Display And/Or Share This article
How Walmart Became a Sustainability Leader
National - 11/19/2015 On Oct. 23, 2005, Lee Scott, at the time CEO of Wal-Mart Stores, Inc., spoke from the auditorium of the company's Home Office in Bentonville, Ark., the first time a company speech had been livecast to every one of the company's stores, clubs and distribution centers....

One store manager in Waveland, Mississippi, took a bulldozer to clear a path into and through her store, finding every dry item she could to give to neighbors who needed shoes, socks, food and water. "She didn't call the Home Office and ask permission," Scott noted. "She just did the right thing."...Katrina asked this critical question, and I want to ask it of you: What would it take for Walmart to be that company, at our best, all the time? What if we used our size and resources to make this country and this earth an even better place for all of us: customers, associates, our children and generations unborn? What would that mean? Could we do it? Is this consistent with our business model? What if the very things that many people criticize us for - our size and reach - became a trusted friend and ally to all, just as it did in Katrina?

Ken Notes: Interesting read. I have often been critical of Walmart, and still am, but I would love to see companies like this lead the way to a more sustainable future. They are marketing brilliance so we have to do the due diligence required to see if they practice what they preach. I remember the made in America campaign which was used to bring people into the store only to sell them the less expensive stuff made over seas... ...Display And/Or Share This article
Kraft Heinz subsidy for net loss of jobs stirs debate in Iowa
Wisconsin - 11/19/2015 Next year, Kraft Heinz will begin work on a new $200 million plant near Eldridgem Iowa. But when the company moves from its longtime location in downtown Davenport, it guarantees taking only 475 workers with it. Possibly hundreds more will lose their jobs. Yet, Kraft Heinz, a company that reported nearly $6.4 billion in sales last quarter, will pocket millions of dollars in state and local incentives....

Ken Notes: Have I ever mentioned a tax credit for job creation instead of incentives??? ...Display And/Or Share This article
OPINION: Stop strangling the great UW System
UW System - 10/1/2015 ...directed at the DNR, the Government Accountability Board, the state Retirement System, and especially the UW System.

For heaven`s sake dear Gov. Walker and Wisconsin Legislators, kindly take your fingers off the throat of Wisconsin`s best and greatest source of economic growth, namely our UW System. Travel anywhere in the world. Then mention UW-Madison. The universal response is generous praise for the teaching, research, and outreach achievements of UW-Madison along with genuine amazement regarding what this state of Wisconsin educational gem has done to benefit people all across the globe....

Ken Notes: I am a strong supporter of the UW System, that said I believe we could have sat down with the leadership and worked together to find the efficiencies we needed to reduce spending and create an even better system. We did not ask we told and now each part of the system is addressing the issue in their own way some looking for efficiencies and other cutting the programs to create the largest outcry. Have I mentioned this is a communication issue... ...Display And/Or Share This article
UW-Madison eyes participation in Dane County homeless resource center
UW Madison - 10/22/2015 The University of Wisconsin-Madison may be among the organizations to provide services at Dane County's planned homeless day resource center as part of an initiative that would also bring students the opportunity to work with others across disciplines.

Ruthanne Chun, a clinical professor in the School of Veterinary Medicine, said Tuesday that UW-Madison intends to respond to a request for proposals Dane County is expected to issue within weeks....

Ken Notes: PLEASE we need all the help we can get!!!! ...Display And/Or Share This article
Exactly wrong project is no big loss
Madison - 11/5/2015 It would have been cool if Exact Sciences had moved downtown.

But it was never as important, never as much of a game changer, as city leaders said it was. The downtown is doing fine and it will continue to prosper even now that the company has retrenched into an expansion at its existing facility in the University Research Park.

There was always a curious air of desperation about the city's chasing of Exact Sciences. It put the taxpayers in a weak position as the city negotiated with the hard-driving developer, Bob Dunn, over the project.

Now that the whole project has crumbled the proposal included space for Exact Sciences, a new hotel to serve Monona Terrace, a refurbished Madison Municipal Building, lots of new parking and more the city is going back to the drawing board....

Ken Notes: Mayor Dave brings some great perspective and background here. It would be easy to suggest sour grapes, but he offers ideas and solutions well beyond that. Latter in the article he does talk about parking in Paris which is not fair as they have a real transit system. We do NOT.... ...Display And/Or Share This article
Ayres Associates - SAA Design Group

Landscape Architecture, Planning, Architecture, Engineering...Please see our blog here for updates... ...Display And/Or Share This article
Madison City Council rejects Mayor Paul Soglin`s proposal to limit time on benches
Madison - 10/8/2015 Madison City Council rejected a proposal from Mayor Paul Soglin Tuesday that would have imposed time limits on public benches downtown and prohibited people from sleeping on sidewalks or benches.

Soglin introduced the ordinance in July, citing a "circus atmosphere where anything goes" regarding homelessness downtown and calling for rules to address negative behaviors like drinking, sexual assault and drug abuse....

Ken Notes: We need to build a better bench for those who want to be on the street. I actually have one in my garage I will bring it downtown soon... I am a fiscal conservative but if we spend just a little to provide safety and warmth we will save on the backside -- where crime will buy you three hots and a cot. We are not using our heads here. Lets create an ultra low income society for those who choose not to participate in our regular or even low income programs. Also some street health and mental health care is needed. There is sooo much more to talk about but I must limit my posts... ...Display And/Or Share This article
Madison, Dane County prepare to close City-County Building`s front porch to homeless sleeping overnight
Madison - 10/1/2015 After months of debate, Madison and Dane County are ready to ban homeless people from sleeping on the City-County Building's front porch starting Thursday.

The move comes as a relief to those raising concerns about behavior problems and health issues on the front porch that faces Martin Luther King Jr. Boulevard and at the Madison Municipal Building across the street, but homeless advocates fear many of the dozens who sleep there will scatter to places that are less safe.

The front porch has been viewed as a shelter of last resort and attractive to the homeless because it's lit, has a roof and is near police....

Ken Notes: I believe we will need to replace this option with another. Many choose the outdoor option because of issues that keep them from wanting a shelter, or home. We need to recognize this and provide options. As always I have an idea... ...Display And/Or Share This article
National media turn attention to Madison`s homeless problems
Madison - 10/8/2015 With Madison?s decision to ban homeless people from sleeping on the steps of the City County Building, national media have turned their eyes on the city and its problems with homelessness.

The New York Times called it a ?surge in homelessness? and an Al Jazeera report said Madison?s homeless population has been increasing since the recession bottomed out, climbing about 40 percent since 2010....

Ken Notes: If we have a national spotlight would not now be a great time to show how a non political solution can be found... ...Display And/Or Share This article
Anheuser-Busch InBev agrees to buy SABMiller in biggest beer deal ever
Wisconsin / World - 10/15/2015 AB InBev (BUD) will offer most SABMiller (SBMRY) shareholders - $44 ($67.59) per share for the maker of Miller Lite, Pilsner Urquell and Peroni, a premium of roughly 50% over the share price before acquisition rumors started flying.

The two biggest shareholders -- Altria (MO) and Colombia`s Santo Domingo family -- will have to opt for a cash and shares alternative worth $39.03 ($60) a share. Altria, a U.S.-based cigarette maker, had been pushing SABMiller`s board to make a deal with AB InBev. ...

Ken Notes: This WILL have a huge impact on Wisconsin. Whether good or bad remains to be seen, but cost of productions will be key. We need to be proactive in suggesting beer be brewed in Wisconsin... Keep Reading... ...Display And/Or Share This article
51 percent of Madison renters are cost-burdened, just below national average
Madison - 10/29/2015 More than half of Madison`s renters are considered cost-burdened, but the percentage has been falling slightly for the last five years.

And in 2014, Madison`s share of renters who pay 30 percent or more of their household income toward housing fell below the national average.

The drop, however, may be more indicative of an introduction of more high-income renters than a decrease in the actual number of cost-burdened renters, said Matt Wachter, the housing initiatives specialist for Madison`s Community Development Authority....

Ken Notes: A great report. We need more unique moderately priced or creative housing but when a developer can put up a high end apartment unit and charge enough to cash flow and make money there is little incentive to build anything else. Government subsidy make the problem worse because the majority does not qualify and they are left with little inventory to buy or rent. These in the gap may become a real problem for Madison and other urban markets. The person who cuts my hair in Madison drives 30 miles to work so her family can afford a nice home. This will catch up to us all if we do nothing about it now. The key - small, affordable, dense, new urban, is not even on the radar screen... ...Display And/Or Share This article
OPINION: Judge Doyle Square still has lots of potential
Madison - 11/5/2015 Exact Sciences proposal for a high-tech headquarters in Downtown Madison was never a make-or-break prospect for the city.

So the mayor and City Council shouldn't feel too bad about the rapidly growing biotechnology company pulling the plug this week on what would have been a $200 million development in the heart of the city....

Ken Notes: Yep... ...Display And/Or Share This article
City Council approves extension for Judge Doyle Square director
Madison - 11/5/2015 A day after plans for a $200 million redevelopment of Judge Doyle Square collapsed, Madison City Council members reaffirmed their faith in the consultant who led negotiations on the city's behalf.

Council members voted 15-4 to approve up to a $30,000 contract extension for Judge Doyle Square project director George Austin to compensate for the expedited negotiating timeline that Austin had to work under to accommodate Exact Sciences Corp. and to continue his service through January 2016....

Ken Notes: George Austin is perfect for these negotiations, he is connected, respected, and smarter than any developer I know -- which is what you need on your side... ...Display And/Or Share This article
Tech and Biotech: Elevator Pitch picks winners; Pegasus lands funding
Wisconsin - 11/12/2015 Companies touting a new type of sports helmet and a device to prevent hearing loss won wows from the judges and the audience at the Elevator Pitch Olympics on Thursday.

Always a highlight of the Wisconsin Early Stage Symposium, the Elevator Pitch Olympics features very young startups, and each leader has 90 seconds to sum up why the company's product or service has gangbuster potential.

Fifteen startups gave their spiel, eight of them from the Madison area.

Ken Notes: All should get space on the new WEDC website... if there were a new WEDC website... ...Display And/Or Share This article
Continued development means more retail spaces
Madison - 11/19/2015 When Gail Ambrosius opened her chocolate shop in 2004, she wasn't sure how many people would visit her 600-square-foot space at Main and First streets. Any worries she had quickly faded as her business moved in 2006 into a 2,000-square-foot space at 2086 Atwood Ave. And now Ambrosius, 56, is planning another move into yet another larger space....

Ken Notes: This is a good thing, but we may need a Public Market to incubate these retailers. Most startups fail and downtown is brutal on those that try. Gail is brilliant and talented by the way... ...Display And/Or Share This article
Mayor Paul Soglin, City Council members want close look at city building for men`s homeless shelter
Madison - 12/3/2015 Madison officials want to take a close look at renovating an aging city building for a Downtown men's homeless shelter.

Mayor Paul Soglin and six City Council members on Tuesday proposed the city spend $64,000 to hire an architect to see if the city's Fairchild Building, 120 S. Fairchild St., has potential to hold an overnight shelter for homeless men. The council will decide whether to hire the firm at a later date....

Ken Notes: Why don`t we approach this like a health or social club. Why label those entering a facility as something with negative connotations. Lets build an opportunity center where people can sleep, get cleaned up, wash some clothes, get a meal, put their feet up, get online, call friends, workout... Also lets ask them to take care of it, clean it, design it, and own it.

Perspective -- I am a member of 100State, I have an office with a view of the capitol, a place to plug in and kick back, can invite my friends and business associates to join me, and off the record there is free beer. I am cool - not homeless. Why should others be homeless and not cool... ...Display And/Or Share This article
Madison`s Tenant Resource Center uncertain about future funding
Madison - 12/10/2015 Following two heated Dane County budget cycles, a few housing services long provided by the Tenant Resource Center will switch over to the Community Action Coalition for South Central Wisconsin, leaving the TRC less certain about its future funding.

Starting Jan. 1, 2016, the CAC will take over publishing a housing vacancy list for the county and will staff the Housing Help Desk at the Dane County Job Center.

For users of the service, the main change will be expanded hours - while the TRC previously staffed the desk from 10 a.m. to 2 p.m., CAC will run it from 8 a.m. to 4:30 p.m., Monday through Friday. The same phone number - (608) 242-7406 - will still work....

Ken Notes: I have to believe the City and County have far better resources and staffing in house for some of these services. Using outside resources when projects can be better handled by existing staff is not economically sound. This becomes far more complicated when the service you are contracting with has a clear political agenda in addition to the services they provide. ...Display And/Or Share This article
Wisconsin Democratic lawmaker joins national push for debt-free college
Wisconsin - 12/10/2015 Wisconsin would form a commission to study how to make college debt-free for prospective students under a proposal Rep. Katrina Shankland, D-Stevens Point, plans to introduce next week....

Ken Notes: The numbers for free college do not work, but look at a loan program that allows EVERY Wisconsin graduate to enter the tech or UW System using loans and wave interest payments if they remain Wisconsin residents. This does work and we could do it tomorrow... ...Display And/Or Share This article
Wisconsin senators cross the aisle in support of beer bill
Wisconsin - 10/15/2015 Wisconsin senators Tammy Baldwin and Ron Johnson don't agree on much, but apparently beer is a unifying force.

Sen. Johnson, a Republican, announced his co-sponsorship of the Craft Beverage Modernization and Tax Reform Act on Tuesday. Baldwin, a Democrat, had signed on as an original co-sponsor of the bill in July. As of Johnson's declaration, Wisconsin is one of just three states, including Colorado and New Hampshire, with Senate co-sponsors on both sides of the aisle.

As we start reforming our tax system, we need to find areas of agreement. This bill is one of them, as its bipartisan support shows, Johnson said in a prepared statement.

The bill would implement a variety of fairly wonky beer and alcohol-related regulations, including modernizing the tax code, simplifying label requirements, expanding a wine producer tax credit and reducing excise taxes for breweries and distilleries....

Ken Notes: A good start at the federal level, but I believe we could create a two tier program at the state level to slightly increase tax on all beer and then provide marketing, employment, and infrastructure credits or grants for beer produced in the state. The net effect would be lower price points on craft and mass produced Wisconsin products, more companies wanting to produce in Wisconsin, and the support for our growing craft and regional breweries. I would be glad to show any group or political staffer how this could work. It is win win unless of course you are selling beer made in St. Louis in Wisconsin.

you may also want to read - Why beer drinkers lose in the SABMiller-AB InBev merger... ...Display And/Or Share This article
Funding research is vital to Wisconsin
UW Madison - 11/19/2015 Scientific research is the most powerful tool we have to promote human and animal health and guard against disease. Incremental discoveries made in the lab today are vital in developing new treatments for cancer, diabetes, Alzheimer's disease and other conditions affecting the people of Wisconsin and the rest of the country. Without a doubt, federal funding fuels life-saving research in Wisconsin. In 2014, our state received $386 million from the National Institutes of Health, $108 million from the National Science Foundation, $29 million from the U.S. Department of Agriculture, and $53 million from the Department of Energy Office of Science in research grants. Scientists, students and support staff rely on these funds. Their efforts yield new discoveries and train our high-skill workers....
...Display And/Or Share This article
Park Street`s Mayland Printing building proposed for demolition
Madison - 10/22/2015 Owners of a 66-year-old building on South Park Street want to tear it down to try to sell the land, saying renovation would be too costly.

The former home of Mayland Printing at 1202 S. Park St. has fallen into disrepair, according to an email written by Dave Mayland, the son of the company`s late former owner.

The building, constructed in 1949 as a National Tea Co. Food Store and later expanded to include second-floor offices over a driveway, housed the press for Mayland, once one of Madison`s largest printing companies....

Ken Notes: Park Street has the potential to become a health care corridor. We could use this to attract specialists in areas to locate their practices here in Madison. The boomer market is huge- hip, cancer, lifestyle.... ...Display And/Or Share This article
CDA to MATC: We will put up a building, parking ramp for you in south Madison
Madison - 10/22/2015 The Community Development Authority wants Madison Area Technical College to develop a comprehensive campus in a South Park Street mall it has been working to revitalize for years.

CDA is proposing to build a new 33,000-square-foot building for the college and connect it to 12,287 square feet of space at The Village on Park that it already is leasing to MATC, as well as an additional 4,370 square feet of newly renovated space.

A three-story 210-space parking ramp to serve the college exclusively also is proposed in the plan outlined in a Sept. 22 letter signed by CDA executive director Natalie Erdman....

Ken Notes: Nursing??? ...Display And/Or Share This article
Madison homeless advocates ask Catholic Diocese to allow camp on former cathedral site
Madison - 10/8/2015 Homeless services advocates are invoking Pope Francis` name in pressing the Madison Diocese to allow homeless people barred from sleeping outside the entrance to the City-County Building to camp out on the former site of St. Raphael Cathedral a few blocks away.

?We are writing to ask you grant sanctuary or forward our request for sanctuary at Cathedral Square to Pope Francis. We are asking for sanctuary for homeless people who are being displaced from the City County Building steps,? says an Oct. 1 letter addressed to Msgr. Kevin Holmes of the Cathedral Parish....

Ken Notes: Arrrrrrghhhhh! The LAST thing we need is another camp! We need a community, ownership, peer review, structure, and structures. If we say just go here we fail -- if we say you can come here if you help us build something special we win. I can not believe no one has seen what works in other areas and says we can do that here... ...Display And/Or Share This article
KELLER, INC. PLANNERS, ARCHITECTS, BUILDERS
State Debate: We have got a people problem, not a jobs problems, professor insists in op-ed
Wisconsin - 10/1/2015 UW-Oshkosh professor M. Kevin McGee, in a op-ed for the Milwaukee Journal Sentinel, argues that Wisconsin doesn`t have a jobs problem, it`s got a people problem. Our unemployment rate is going down even though our job growth is abysmal because we have too few people in the employment pool, he says. Instead of throwing tax incentives and breaks at corporations, we need to work on making Wisconsin a place where people want to live and work....

Ken Notes: We do not have a people problem nor a real jobs problem - WE HAVE A COMMUNICATION PROBLEM. As we throw darts at those who disagree with us the rest of the world hears the negative rhetoric and not the positive message. We are a good place for business, we have a good workforce, companies thrive here, alas you will have to look hard to find this in the national media because we enjoy pointing out the negatives and blaming the other guy. So to others we are a union hating, high tax, non diverse, destroyer of the environment, with nothing to do on a Friday night. All false, yet ask someone from Texas or New York and that is what you will hear. Ask about EPIC, Kohls, Harley, Kohler, or many other successes and the answer is often - Are they in Wisconsin? ...Display And/Or Share This article
Homeless day shelter met with concern, enthusiasm at neighborhood meeting
Madison - 10/8/2015 Enthusiasm over providing a daytime homeless resource center along East Washington Avenue was met Wednesday with sharp concerns and reminders of problems with the city`s last daytime shelter.

More than 100 people attended a neighborhood meeting on Dane County`s proposal to put a permanent homeless day shelter on the former Messner Inc. property at 1326 E. Washington Ave....

Ken Notes: Why not develop this (or better yet these) as Health club/Co-working centers and encourage the homeless to join. I would even charge a few bucks so they had ownership and would respect the facility. Exact same purpose but marketed with dignity. Showers, laundry, and technology to grow - an address so you are not seen as homeless and shelter from the elements. ...Display And/Or Share This article
Madison City Council approves affordable housing funding
Madison - 12/3/2015 Madison City Council voted Tuesday night to spend nearly $2.8 million from the city's Affordable Housing Fund to help provide 159 units reserved for renters with lower incomes. Council members unanimously approved funding on a voice vote for three applicants who submitted development proposals to the city using low-income tax credits....

Ken Notes: Above I mentioned my 100State perks -- at $50 per month (my dues), we could provide the same brick and mortar for 1,666 homeless for four years with the same 2.8 million and hire staff to run it. ...Display And/Or Share This article
Plans give a look at building, intersections in Hill Farms redevelopment
Madison - 12/3/2015 Plans for a new state office complex at Hill Farms show a nine-story building and a seven-level parking ramp on the west side of the property. They also show a new intersection on University Avenue for access to what is expected to be a blend of housing, offices and commercial development. The drawings, labeled as from late October and done by the Madison office of national architecture firm SmithGroupJJR, offer a look into what the state and developer Smith Gilbane have planned for the first part of the redevelopment of the Hill Farms area on Madison`s west side...
...Display And/Or Share This article
Scott Walker very interested in helping create Madison public market
Madison - 11/12/2015 Gov. Scott Walker said Tuesday he is very interested in helping the city of Madison develop a public market.

Walker's comments come a day after Mayor Paul Soglin said he and Walker spoke Friday during which Soglin asked for the governor's help in creating the market. The mayor's request came in the wake of the impending closure of Oscar Mayer's Madison headquarters....

Ken Notes: Jobs, new business incubation, fresh produce, temporary space, event space... What`s not to like... ...Display And/Or Share This article
Sundance Cinemas Madison bought by Carmike theater chain
Madison - 10/8/2015 The nation?s fourth largest movie theater chain will buy Sundance Cinemas, including the six-screen theater in Madison.

Carmike Cinemas is buying the entire Sundance Cinemas chain, including five theaters around the country, for $36 million, the company reported Tuesday. The Georgia-based Carmike currently owns 269 theaters in the United States....

Ken Notes: This could be a great fit in that their model is not high prices but good shows. I hope they lease out or reopen the restaurant and the rooftop bar. This is a great theatre and we need an art film venue -- but it does have to make money. ...Display And/Or Share This article
Acclaimed Italian restaurant Nostrano is up for sale
Madison - 10/15/2015 Nostrano, Tim and Elizabeth Dahl`s cozy Italian restaurant at 111 S. Hamilton St., is up for sale.

The restaurant, which celebrated its five-year anniversary last week, has earned accolades for its owners, including mentions in Food and Wine`s People`s Best New Chef competition (Tim Dahl) and the James Beard Awards (Elizabeth Dahl).

But the difficulties of running the kitchen as well as every other aspect of their restaurant has been tough for the Dahls, who now have three young children. ...

Ken Notes: Hey FoodFight this would put you on the international map, you have the skill set to run, staff and market it, you might be able to keep the Dahls, and I haven`t eaten there yet. Use the share link to forward this to FF investors and staff... ...Display And/Or Share This article
Local startups to meet next week with Silicon Valley investors
Wisconsin - 10/15/2015 The regional business delegation led by the Greater Madison Chamber of Commerce will meet next week with prominent venture capitalists. It is the second consecutive year a delegation has traveled to California to promote the area and the startup companies. Greater Madison is entering a new Golden Era in business, led by competitive innovation sectors and a rapidly scaling entrepreneurial landscape, said chamber president Zach Brandon, in a news release. As we continue to build and compete with cities across the globe, it is imperative that we travel with purpose and actively tell our story as a world-class place to build and invest....
...Display And/Or Share This article
Koch Industries sponsors Badgers football under contract that bars - adverse interests
UW Madison - 10/22/2015 The Wisconsin Badgers Oct. 31 football game against Rutgers at Camp Randall Stadium will be sponsored by Koch Industries, the energy company run by billionaire political players David and Charles Koch. The game sponsorship is part of UW's multi-year contract with a collegiate sports marketing company worth more than $111 million in guaranteed payments alone.

A 2012 UW Board of Regents contract, obtained by the Capital Times through an open records request, gives Badger Sports Properties, a subsidiary of Learfield Communications, Inc., the right to sell game sponsorships and advertisements to be displayed at UW-Madison athletic venues through 2026....

Ken Notes: Why should this be different from any other sponsor. It is a financial boon to the program to have companies willing to invest millions in UW Athletics. Now if Koch expects more than advertising and good will in return, that is a crime. We are actually giving them more attention than the need by suggesting this is wrong and in the end we will not change the policy. Am Fam, UWHealth, Ho-Chunck, Ray o Vac, Wisconsin Milk Marketing Board and all the rest THANK YOU for supporting UW athletics... ...Display And/Or Share This article
Johnson is jumping: The East Johnson Street neighborhood is back (again!)
Madison - 10/29/2015 When Johnson Public House opened in April 2011, that stretch of East Johnson Street was pretty quiet.

Gwen and Kyle Johnson, Chicago transplants with young children, chose the In the Company of Thieves location at 908 E. Johnson to develop a more contemporary concept, serving pour-over, single-origin coffees and hosting music and storytelling events.

To the Johnsons, finding the cafe on a street with their name felt like fate, even if they were among just a handful of businesses...

...The uptick in new businesses says that East Johnson, technically part of the larger Capitol East District, is developing its own identity as a shopping and dining destination. It has a different feel from spots like Sujeo and Cargo Coffee or the new Julep, Barolo and A-OK restaurant group, all on East Washington Avenue...

Ken Notes: I hope we continue to see the neighborhood vibe grow and thrive in Madison. I love Willy Street, State, Monroe, Regent, and all the rest... Each with it`s own vibe and style... We may not promote this enough especially to tourists and visitors. I met a hotel guest the other day asking for pizza, he mentioned Pizza Hut - I walked him to Ian`s... ...Display And/Or Share This article
OPINION: Why the time has come for cannabis in Madison
Wisconsin - 11/5/2015 Madison is a community of thinking people. It has a reputation of studying issues and buying in when something makes sense. And nothing makes more sense than the legalization of cannabis (marijuana). By every standard of truth, cannabis has proven itself to be a benefit to any governmental body that legalizes it.

In Colorado, where I visit often, cannabis is a key news topic year round. Its legalization has raised a remarkable amount of money for the state?s schools. Patient studies call it the best seizure medicine in history. Legalization has helped spur a massive drop in crime, murder and hard drug overdoses. Even the tourism industry has benefited as the curious come to observe....

Ken Notes: What if we changed the focus to our youth. Imaging Colorado taking 100% of cannabis revenues and focusing on preventing youth from accessing drugs, including cannabis, alcohol, and tobacco and nicotine. Also programs could be funded that provide kids with opportunities to socialize, study, and mature. Finally education could receive additional income for programs that prepare students to transitioning to the workplace and advanced education.

I firmly believe we need to restructure our laws to punish those harming our youth and become more lax on the activities of consenting adults. After a generation or two we will see a shift to more responsible adults. ...Display And/Or Share This article
​Craft brewery slowdown
Wisconsin - 11/5/2015 Owners says an arcane 2011 state law is impeding growth...

By most accounts, Wisconsin?s craft beer industry is still booming. It?s an economic development bright spot in a state struggling to create new jobs and boost private-sector investment.

But unfortunately, the number of new breweries opening in Wisconsin is now lagging the rest of the nation by some 50%, according to the latest figures from the Brewers Association, based in Boulder, Colo. And some entrepreneurs are blaming lawmakers for arcane rules slipped into the 2011 budget that make it harder for smaller players to expand or grow their business.

Ken Notes: We NEED and advocacy group for craft beer in Wisconsin. The industry will be huge!!! ...Display And/Or Share This article
WEDC should have seen bread crumbs of Oscar Mayer closing, Mark Pocan says
Wisconsin - 11/12/2015 U.S. Rep. Mark Pocan said he thinks Wisconsin`s economic development agency should have seen signs leading to last week`s announcement of the impending closing of Oscar Mayer`s Madison plant.

When Oscar Mayer parent company Kraft completed a merger with Heinz in July, there were hints that changes were coming for Oscar Mayer.

And when Kraft Heinz announced 165 layoffs at the Oscar Mayer Madison corporate office in August, it was another sign of things to come, Pocan, a Democrat from Madison, said in an interview broadcast on WKOW-TV`s "Capitol City Sunday."

He said the Wisconsin Economic Development Corp. should have picked up on them and made contact with the company to find out its plans for the Madison location....

Ken Notes: Why are not WEDC and Mark communicating with all major employees in the state and his district. It seems to me the company in this case was looking to consolidate for efficiencies and improvements. The Madison site did not offer what they needed and I am not sure cash was the issue. I have mentioned a few times that if we offered tax breaks based on new jobs we would create a level playing field for all companies in the state. Mark rather than blame WEDC, pick up a pen and draft meaningful legislation that creates real incentives for real jobs. ...Display And/Or Share This article
Cap Times reporter Bryna Godar talks public market, Oscar Mayer closing on WORT
Madison - 11/19/2015 With the impending closure of Madison`s Oscar Mayer plant, some in the city and state are turning to a planned public market as a needed boost for food-production jobs. Cap Times reporter Bryna Godar joined Kristian Knutsen on WORT`s In Our Backyard news program Tuesday evening to talk about what the public market entails, some of the debate over location and timing and whether Gov. Scott Walker might provide funding for the plan....

Ken Notes: If you Rotary or other group would like to have a discussion about these or other projects, give me a call. I will be happy to provide a little background and moderate. Remember your voice is needed to move these project forward... ...Display And/Or Share This article
Cricket Design Works offers a Cool Workspace home away from home
Madison - 12/10/2015 The Cricket Design Works office looks and feels like a modern urban loft apartment.

Light hardwood floors, an exposed brick wall and a handmade sliding barn door are among the d'cor choices that make the space feel more like a home than an office.

That lived-in feel was what appealed to Kristin Cricket Redman, founder of the visual communications agency. Redman had frequented the space, located at 1925 Monroe St., when it was a tea shop, and jumped on the chance to rent it when her growing agency was looking for a home in 2006....

Ken Notes: The photos HERE. ar fantastic. I love 100State but we could use some design sense and some comfortable work spaces. Greg I`ll bet we could tour this space for some ideas... Also having a dog in the office PERFECT! ...Display And/Or Share This article
Kraemer Brothers Construction
Neighbors criticize proposed height of South Park Street affordable housing project
Madison - 10/1/2015 A Madison developer will present a new site plan for an affordable housing project on South Park Street to a neighborhood steering committee this week. But residents say that the plan doesn`t solve concerns they have about the height of the project.

J.T. Klein Co.`s project at 820 S. Park St. originally involved constructing two five-story apartment towers connected by an underground parking garage. One tower was for senior housing and one for affordable family housing....

Ken Notes: I hope everyone knows that this is a math problem. If ground/land costs X the cost per unit is X/Units to get more Units and thus lower costs you go up to get more units on the land. If you can not go up then you have higher unit costs. ...Display And/Or Share This article
See it? Buy it! Fashion-turned-tech startup Markable taps Madison resources
UW Madison - 10/8/2015 Joy Tang only works out of Madison one week of every month, but she can easily imagine growing her tech startup, Markable, here. ?I?m definitely looking forward to more collaboration with the UW,? Tang said, calling out the University of Wisconsin-Madison for the well-regarded image recognition work of its computer science department....
...Display And/Or Share This article
WARF awards UW-Madison inventors for changes to cancer screening, bioplastic development
Madison - 10/15/2015 The Wisconsin Alumni Research Foundation announced the winners of its annual Innovation Awards Tuesday, according to a university release. This year's winning inventions, a colon cancer screening blood test and a solar-powered way to possibly develop plant-based plastics, were selected from more than 380 inventions disclosed to WARF over the past 12 months. The Innovation Awards showcase the people and ideas that make the University of Wisconsin-Madison at the leading edge of scientific research in the nation and world, Carl Gulbrandsen, managing director of WARF, said in the release....
...Display And/Or Share This article
Shabazz lets students take control of how they learn
Madison - 10/22/2015 When Gene Delcourt was a student at the University of Wisconsin-Madison, a visit with teachers and students from Malcolm Shabazz City High School ended up altering his career path. I was so impressed by what they had to say and how articulate the students were, I just told myself, That's where I need to student teach. I really have to be there, said Delcourt, a social studies teacher at Shabazz. Next spring, Delcourt will retire after 18 years at the school. Reflecting on what drew him there, Delcourt said it was a more flexible approach to learning....

Ken Notes: We need so many more options like this. After years on a school board I still question why we train our next bakers, mechanics, engineers, musicians, and all the rest in a system specifically designed to advance students into a general education program at the UW. ...Display And/Or Share This article
Scott Walker can do what he wants
Wisconsin - 10/29/2015 In "Two Minutes with Mitch" local radio personality Mitch Henck says Wisconsin Gov. Scott Walker and Republicans have the votes to do what they want...

Ken Notes: I wrote about the exact same thing in 2011. Right now, state has Team W, Team U and Team D; I am on Team J.... ...Display And/Or Share This article
MATC still pursuing plan to sell Downtown campus, grow on South Side
Madison MATC - 10/29/2015 Madison Area Technical College is still eyeing a plan to sell its Downtown campus and shift much of its operations to the city's South Side, several months after the college's board deadlocked on the controversial proposal.

College officials have started a pair of studies - one to gauge developers - interest in buying its historic Downtown buildings, and another to see what sites could be home to its expanded presence on the South Side. They plan to bring a proposal back to the board next spring, a year after the first attempt failed to gain approval....

Ken Notes: Why not find a buyer/developer for the downtown property and put a package together for the board. Here is what what we have in mind - sell this for this - build this for this --- ...Display And/Or Share This article
Cellular Dynamics lands big contract with a major pharmaceutical company
Madison - 11/12/2015 Cellular Dynamics International will supply its stem cell products to Swiss pharmaceutical giant Roche in a contract that could bring more than $80 million to Madison-based CDI and play a role in the addition of more than a dozen jobs.

The agreement is the largest single collaboration for CDI to date, said chairman and CEO Kaz Hirao, in a written statement....Cellular Dynamics has 156 employees, with 133 in Madison and 23 in Novato. Parker said the company hopes to be up to 175 by next March, with at least 15 of the new positions in Madison.

Ken Notes: Attention WEDC and Legislators one worth keeping. Tax credit for new jobs may do it??? ...Display And/Or Share This article
Madison one of 5 platinum-level Bicycle Friendly Communities
Madison - 11/19/2015 After seven years of effort, Madison has become one of only five cities to reach platinum-level status as Bicycle Friendly Communities, the League of American Bicyclists announced Monday. Wisconsin's capital city joins Boulder and Fort Collins, Colorado; Davis, California; and Portland, Oregon, in achieving the top recognition awarded so far from the group's Bicycle Friendly Communities program. No city has reached the highest level possible, diamond....

Ken Notes: This is with a Mayor who once blogged about Bicycling Madison Style: As Dumb As It Gets... My guess is we will get to Diamond at some point... ...Display And/Or Share This article
Madison holds off on police body cameras, will first look to build trust between police and community
Madison - 11/19/2015 Following advice of a citizen-led panel, Madison police officers won't start wearing body cameras any time soon, the City Council decided Tuesday. Instead, the city will first focus on another citizen-led effort looking at how to build trust between police and the community, especially vulnerable populations. A body camera pilot program could be part of later efforts....

Ken Notes: Again Madison is a class act when it comes to policing... ...Display And/Or Share This article
Scott Walker on Syrian refugees
Wisconsin - 12/3/2015 Gov. Scott Walker on Wednesday acknowledged that legally, he cannot prevent Syrian refugees from entering Wisconsin, but said he has instructed his administration not to be involved in the process of bringing them to the state.

"Legally, I can`t put up a wall at the border," he told reporters.

Walker`s call to halt the resettlement of Syrian refugees in Wisconsin came days after more than 120 people were killed in Paris, the result of coordinated terrorist attacks. The Islamic State has since claimed responsibility, prompting several states to say they would stop accepting Syrian refugees....

Ken Notes: I met my first Syrian at the King of Falafel on Park Street last night. If the rest can cook like he can I saw bring em in - it was delicious!!! The secret to fighting terrorism is know thy neighbor... ...Display And/Or Share This article
Ryan wants complete alternative, not just anti-Obama stance
National - 12/3/2015 In his first big political address as Speaker of the House, Paul Ryan said Republicans have to stand for more than just undoing what President Barack Obama has done.

"If we want to save the country, then we need a mandate from the people. And if we want a mandate, then we need to offer ideas," said Ryan, speaking from the Library of Congress across the street from the U.S. Capitol. ...

Ken Notes: Wow where is he from? Oh yea here. Think he could talk to the Governor? ...Display And/Or Share This article
Stoughton District hosting listening sessions on old High School building
Stoughton - 11/5/2015 Is it worth the time, money and effort to salvage and restore the old Stoughton High School? That?s the question Stoughton Area School District officials hope to answer, and are looking for peoples? opinions on what they should do. The district will host two listening sessions in November to gather public input about the future of the ?1892 building,? located at the corner of Forrest and North streets near River Bluff Middle School and the district administration building...

Ken Notes: If the structure is sound, why not lease or sell it as is to artists, or others looking for work or living space and then let them rehab the space according to code to address their needs. ...Display And/Or Share This article
MadREP officials to promote international trade in Argentina
Madison - 10/15/2015 The Madison Region Economic Partnership will promote trade opportunities in the province of Crdoba, Argentina, as part of the Fourth Americas Competitiveness Exchange on Innovation & Entrepreneurship.

MadREP president Paul Jadin and senior vice president of economic development Michael Gay are among five U.S. delegates selected for the Oct. 26-30 tour....
...Display And/Or Share This article
OPINION: Soglin slips in tackling homelessness issue
Madison - 11/5/2015 Mayor Paul Soglin, since his landslide re-election victory in April 2015, has once again taken it upon himself to address Madison?s homeless problem with rhetoric rather than substantial policy. Over the summer, Mayor Soglin proposed a new city ordinance which would tackle problematic loitering and lodging in Madison?s Central Business District. While not directly mentioning the homeless, the ordinance, which Madison?s Common Council has since voted down, attempted to clear out downtown of individuals who were causing an undue nuisance to both city residents and the various businesses of downtown Madison....

Ken Notes: A very tough issue with not one but many solutions required. This will not be resolved until the homeless are a part of the solutions and not seen as the problem. Paul is at the very least calling attention to the issues, my guess is that he is hoping others will offer solutions... ...Display And/Or Share This article
Growing pains: As Madison adds housing, neighbors fear zoning and established plans aren`t being honored
Madison - 12/10/2015 Kitty Kocol and Carrie Rothburd aren't NIMBYs, they insist. The pair of south side residents are in favor of bringing affordable housing to their neighborhood and don't subscribe to the Not In My Backyard school of thought about development.

The disregard, however, they said that a proposed five-story apartment building on South Park Street has shown to the neighborhood plans and established zoning has been hard for them to stomach....

Ken Notes: We develop these plans and then shelve them only to dust them off when we don`t like a proposal. To work they need to be reviewed revised and a proactive part of encouraging development in the neighborhood. ...Display And/Or Share This article
The Gialamas Company, Inc.

Offering an unmatched commitment to our clients! ...Display And/Or Share This article
MGE wants to add solar power in two Middleton projects
Middleton - 10/1/2015 Madison Gas & Electric is asking state regulators to approve two solar energy projects in Middleton totaling $1.2 million.

One project, estimated to cost $950,000, involves installing 1,700 solar panels on the Middleton Municipal Operations Center, 4330 Parmenter St.

MGE calls it a - community solar pilot project, - capable of producing 500 kilowatts of electricity that would feed into the area's power grid. About 250 MGE customers could sign up for some of that power....

Ken Notes: I did suggest they promised me more developments like this, I am very glad to see them actually commit! Thumbs Up!!! ...Display And/Or Share This article
China`s economic growth declines to 6-year low
World - 10/22/2015 China`s economy decelerated in the latest quarter but stronger spending by consumers who are emerging as an important pillar of growth helped to avert a deeper downturn.

The world`s second-largest economy grew by 6.9 percent in the three months ended in September, the slowest since early 2009 in the aftermath of the global financial crisis, data showed Monday. That was down from the previous quarter`s 7 percent....
...Display And/Or Share This article
Developer files plans for South Park Street, neighbors still have concerns
10/22/2015 J.T. Klein, Inc. filed the plan with the city for the multi-family affordable housing development at 820 South Park St. on Oct. 7. Several months of meetings with neighborhood residents and multiple iterations of the proposed development whittled down the proposed two large buildings to one. The final plan, which covers most of the block, includes a 103-unit apartment building with a four and a five-story wing and seven single-family homes. The apartment building will face Delaplaine Court, Park Street and Haywood Drive. Located along Brooks Street, the seven houses are existing homes that will be updated or moved from different lots. The plan would require changing the zoning in two portions of the block....
...Display And/Or Share This article
Local community leaders prepare to rock in lip sync battle for Madison schools
Madison - 11/5/2015 If you?d like to see local community leaders and principals tap their inner rock star, Friday night is your chance.

In the first-ever Lip Sync for Schools, hosted by the Foundation for Madison?s Public Schools, community leaders and educators will take part in lip sync battles and audience members will pick winners throughout the night. The event, from 7 p.m. to 11p.m. at the Brink Lounge, 701 E. Washington Ave., raises money for students and public education in Madison. The night will feature a silent auction, cash bar, photo booth and food. Tickets are $40....

Ken Notes: Michael and Tim will be fun to watch. Next year let me know if you need a juggler... ...Display And/Or Share This article
OPINION: Let`s have an `extraordinary` session on Wisconsin job creation
Wisconsin - 11/19/2015 When the Legislature convenes an extraordinary session, it should be focused on urgent issues that will improve the lives of everyday citizens across Wisconsin.

Yet the Assembly Republicans` plan for their upcoming extraordinary session is to focus not on jobs, middle-class empowerment or any other issues that represent the top priorities of the people of our state, but on allowing more secretive money in politics, enabling more corporate influence over our government and increasing opportunities for political corruption. ...

Ken Notes: When you begin an editorial with a bashing of the opposition who are in the majority do you really expect to accomplish much. I want to see a bipartisan group come forward with some sound ideas on moving the economy forward. ...Display And/Or Share This article
OneNeck expands Fitchburg data facility
Fitchburg - 11/19/2015 Eric Patterson waited for one door to shut behind him before scanning his ID card and leaning toward a retinal scanning machine to get through the next. Behind that second door were more security features, and the data center's prized possessions: servers. Companies come to us when they have, at the very core of their business, some sort of technology server or system that absolutely, positively can't ever go down, Patterson, OneNeck IT Solutions' facility manager, explained. Those companies realize that if their server goes down, they simply have to tell their customers, Sorry, you can't make any transactions.That goes over pretty poorly...

Ken Notes: With more threats to major metros Madison may be perfect for many more of these... ...Display And/Or Share This article
MATC sees interest from developers in buying Downtown campus site and expansion in South Side
Madison - 12/3/2015 Developers have responded to a Madison Area Technical College request for interest in purchasing the college's Downtown campus and in providing sites to shift those operations to the city's South Side, president Jack E. Daniels said Wednesday. The college, which made informal requests for developer information earlier this year, received responses from 15 developers interested in purchasing the Downtown campus at 211 N. Carroll St., just off Capitol Square, and from eight parties interested in selling or leasing land and/or buildings for expanded operations on the South Side, Daniels said.

Daniels has called for a shift of operations, saying it would cost millions of dollars to repair the aging Downtown campus and that MATC should further invest in South Madison, where the college currently operates a small campus inside the Village on Park shopping Center, 2300 S. Park St....

Ken Notes: This make much sense to me, put the entire project in front of the board and community and you will get a different opinion - trust me! ...Display And/Or Share This article
Agricultural education a focus of new county park plan
12/10/2015 A new plan for more than 300 acres of donated farmland outlines long-term plans to create a hybrid park and agricultural education center in southeastern Dane County.... I think it can be more than a Dane County park. I think it can be a regional attraction and an economic engine, said Greg Markle, executive director of the Madison-based nonprofit group Operation Fresh Start.

Ken Notes: I agree... ...Display And/Or Share This article
Project of the Week - WEDC

MADISON- WEDC...

Ken Notes: A weekly feature with links to all the stories and notes on a specific project or topic. Or you can search for your favorite project here. ...Display And/Or Share This article
Greenleaf Media - a full service interactive agency

We help you create meaningful connections with your customers through web design and development, ecommerce, branding and multimedia. ...Display And/Or Share This article
New bike trail linking Madison to McFarland in 2016 budget proposal
Madison Area - 10/1/2015 The completion of a $10.5 million bike trail connecting Madison with McFarland that includes a bridge with an accessible fishing pier and a floating boardwalk over wetlands leads the capital projects that Dane County Executive Joe Parisi has included in his proposed 2016 budget....

Ken Notes: Could be very cool, but priorities may need to intervene. ...Display And/Or Share This article
Frank Lloyd Wright house found in Madison
Madison - 10/8/2015 For nearly 30 years, Mary Jane Hamilton had a curious feeling about the house at 2107 West Lawn Ave.

Today, the Frank Lloyd Wright scholar and author finally reveals her hunch: That the two-story house was designed by Wright himself.

The West Lawn home is being announced as only the 16th known example of the American System-Built House, a short-lived venture by Wright meant to provide affordable housing through predesigned homes built with factory-cut materials....
...Display And/Or Share This article
Giving back to the community through the Madison Community Foundation
Madison Area - 10/8/2015 Bob Sorge is in charge of a big pot of money that has given its support to projects as diverse as establishing a computer lab at Centro Hispano of Dane County to creating the new Madison Opera Center to providing a permanent fund for outdoor education at the county?s parks.

Sorge is president of the Madison Community Foundation, a nonprofit that manages more than $160 million and handed out $10 million in grants in 2014....

Ken Notes: Great interview!!! ...Display And/Or Share This article
Eminent domain proceedings for proposed park come to halt
Madison - 10/15/2015 Hours before a resolution to condemn six properties on West Mifflin Street to build a park came to a vote of the Board of Park Commissioners, a property owner in the neighborhood of the proposed park offered to sell their properties. Ald. Mike Verveer, District 4, said he and co-sponsor of the resolution Madison Mayor Paul Soglin plan to ask the Common Council to delay proceedings on the resolution. This abrupt halt comes after the Plan Commission and the Board of Estimates cleared the resolution, which would permit the City of Madison to seize six private housing properties for the purposes of a public park....

Ken Notes: I may have suggested this approach... ...Display And/Or Share This article
In war on Dane County lake algae, company emerges to produce drinkable water from manure
Dane County - 10/22/2015 You've heard about turning water into wine. How about making cow poop into water that's clean enough to drink'

Dane County Executive Joe Parisi Tuesday announced a contract with a company that claims it can do just that.

Pending County Board approval, Beloit-based Aqua Innovations will soon be treating cow manure at the year-old ' Cow Power manure digester outside Middleton to the point that it contains zero phosphorus, the nutrient that causes algae in area lakes.

It gets to the root cause of algae in our lakes, which is phosphorus, said Parisi at a Wednesday news conference announcing the tentative contract....

Ken Notes: I have a love hate relationship with this project, I love the Idea and even the technology, I hate spending $ 1.8 million of tax dollars on it. Why not draft legislation to require mega farms to embrace technologies that treat and pasteurize manure from their facilities. Not our dime but MORE of our citizens would benefit. It would also push for more affordable treatment facilities. With the taxpayer footing the bill companies have no incentive to control costs... ...Display And/Or Share This article
Senate confirms new WEDC chief officer
Wisconsin - 10/22/2015 The state Senate has confirmed Gov. Scott Walker`s decision to appoint a campaign donor to lead his troubled economic development agency.

Walker appointed Mark Hogan to replace Reed Hall as CEO of the Wisconsin Economic Development Corporation in September. The Senate confirmed the appointment on a 23-9 vote Tuesday.

According to government watchdog group Wisconsin Democracy Campaign, Hogan has given Walker`s campaign $24,375 since 2005. Federal campaign finance records show he gave $10,000 to Unintimidated PAC, a super PAC that Walker`s former campaign managers formed to support Walker`s 2016 Republican presidential bid....

Ken Notes: I have written a lengthy article for the last several with little avail so I will leave this on alone. Google my name and WEDC for articles from the past.... ...Display And/Or Share This article
Madison Chocolate Company to seek new space
Madison - 10/29/2015 Madison Chocolate Company, which had originally planned to share a space with Macha Tea Company on East Johnson Street, has made other plans to move into a different space elsewhere.

"Unfortunately, we realized that there was not enough kitchen space for both businesses to grow effectively over the next several years," said Megan Hile, the owner of Madison Chocolate Co....

Ken Notes: Heads up let`s get her a great space asap.... ...Display And/Or Share This article
Apple TV brings iPhone-like apps to the big screen
World - 10/29/2015 It turns out that Apple`s streaming-TV box - aptly named Apple TV - isn`t just for streaming anymore. Its latest incarnation, which ships this week, offers on the big screen just about anything you could previously only do on an iPhone or iPad.

Whether that`s good may depend on whether you really want to buy shoes, browse home listings or read comic books on your TV. The new Apple TV looks to be a capable device for those purposes, although it`s not flawless. Its streaming-TV features also trump those of its predecessor....

Ken Notes: Watch this market space it will be huge very quickly. ...Display And/Or Share This article
OPINION: How is your meat raised?
Wisconsin - 11/5/2015 Following significant pressure from consumers nationwide, Subway just served up a major victory for public health by announcing that its restaurants will no longer sell meat raised with antibiotics. This comes on the heels of similar commitments by McDonald?s, Chipotle, Chick-Fil-A and others.

So, why should this matter to you?

It matters because the overuse of antibiotics in Big Ag makes each and every one of us less safe. Factory farms that supply companies like McDonalds and Subway give their livestock antibiotics on a routine basis. In fact, 70 percent of all antibiotics in the U.S. go to livestock ? most of the time these animals aren?t even sick ? to make them gain weight and to prevent disease caused by unhealthy and unsanitary conditions on factory farms....

Ken Notes: Wisconsin and the Driftless region could become world leaders in organic produce, beef, pork and poultry. We need a regional or state effort to promote and market the products. I would love to see a Milk Marketing Board for Organics, and Craft Beer. ...Display And/Or Share This article
State funds for climate change research sponsor criticized
Wisconsin - 11/5/2015 State Treasurer Matt Adamczyk condemned the Board of Commissioners of Public Lands? use of interest earnings toward UW-Madison?s Nelson Institute for Environmental Studies in a Monday press release.

The BCPL manages roughly $1 billion worth of investments in acres of Wisconsin land and a trust fund which distributes educational grants throughout the state, including the Nelson Institute since 2009. According to Adamczyk, who oversees the agency, the trust is prohibited from distributing funds to any institution except the state?s teaching schools.

?In my opinion not only is this unconstitutional, but also improper,? Adamczyk said in the release. ?This money should be given as general aid to the UW System or designated for teacher training as prescribed in the state Constitution.?...

Ken Notes: The Board of Commissioners of Public Lands for the most par does fly under the radar screen, but I can not agree with only funding those issues that we have no political concerns over. Also Read: Divided lands board delays hiring decision for anonymous candidates... This should relay be a NONPARTISAN appointment. ...Display And/Or Share This article
Epic Systems insiders say so-called feuds are greatly exaggerated
Wisconsin - 11/12/2015 Rumors of feuds between Epic and other electronic health care records vendors like Cerner are greatly exaggerated, according to company insiders.

Those supposed feuds have been made famous by several high-profile media reports, including an article last month in Mother Jones, a liberal-leaning newsmagazine. That article defined the CommonWell Health Alliance, a trade group of which Cerner is a member, as a coalition of Epic's rivals.

The fact is, we've made good with CommonWell, Peter DeVault, vice president and director of interoperability at Epic, said at a panel during the Disruptive Healthcare Conference in Madison on Tuesday. Executives and healthcare providers representing Epic, Cerner, UW Health and the Medical College of Wisconsin were on the panel....

Ken Notes: This is not new or worthy of press. Companies compete and it is not always pretty. A good friend of mine was CEO of WordPerfect (anyone remember WordPerfect) and Microsoft declared war on the product. To this day I use Libre and Open Office rather than MS Word. Business is tough and to survive you have to be good affordable and quick to respond to market demands. EPIC is all of the above and then some. Others will either keep them on their toes or eat them. I hope they become to big to swallow... ...Display And/Or Share This article
Developer may demolish long-vacant building near UW-Madison for housing project
Madison - 11/19/2015 Despite demand for housing, a seven-story building with rooms to hold more than 300 beds near the heart of UW-Madison and a stone's throw from Lake Mendota has sat vacant for years.

But that soon may change....

Ken Notes: Pricey GAP for these projects... ...Display And/Or Share This article
Badgers men`s basketball: UW goes overtime to beat Syracuse
Wisconsin - 12/3/2015 Say this for a University of Wisconsin men's basketball team that is lacking in a lot of areas at this stage of the season, with experience topping that list: Just when it might seem like they're down for the count, the Badgers have shown the ability to pick themselves up off the mat and continue fighting. UW has followed all three of its losses this season with victories, the most surprising of which came Wednesday night at the Carrier Dome.

Ken Notes: Not development? tough it is my publication and this is great news. A young Badger team capable of greatness - if not this year soon - Now that is DEVELOPMENT... ...Display And/Or Share This article
Madison landlord Ray Peterson aims to sell 48 properties following court ruling
Madison - 12/10/2015 Forty-eight properties throughout the city of Madison could soon be for sale as landlord Ray Peterson deals with a court order to bring them up to city standards.

On Friday, a Dane County judge said that 45 of 48 properties Peterson owns constitute a public nuisance, ordering him to hire a professional property management company within 30 days to bring the properties up to code.

Peterson, 90, said he instead plans to sell all 48 of his properties as soon as possible. About a dozen are already listed with Stark Company Realtors including one where the front door hasn't opened for months and Peterson said another dozen will soon be listed with First Weber Realtors....

Ken Notes: While Mayor in Neenah we had a similar situation and were able to buy the properties as a bundle and then re-market them ensuring the type of development or adaptive reuses we wanted. We also could allow existing tenants options which included free rent for bringing the properties we wanted to save up to code. We had a number of (crafty unemployed) types applying to move in and make improvements which we inspected... ...Display And/Or Share This article
Developer asks for $1 million in TIF for Oregon hotel
Oregon - 12/3/2015 A developer proposing to build Oregon's first hotel has asked the city for $1 million in public assistance for the project.

S&L Hospitality, of Verona, introduced a proposal last month to build a 75-room Sleep Inn by Choice Hotels at the corner of Janesville and Park streets, just off Highway 14 in southeast Oregon....

Ken Notes: One million on a less than 5 million project is very high, of course you have to ask but I am a 10% guideline guy and if they can make an epic connection they should be ok with half of what they are asking. Also where is the gap and "but for" on this project??? ...Display And/Or Share This article
It is like Colectivo...with more beer
Madison - 10/22/2015 It's tempting to think of Cafe Hollander as the Colectivo of Belgian beer.

Like Colectivo, Cafe Hollander is from Milwaukee. It's part of a five-restaurant group there, with two Cafe Hollanders, a Cafe Benelux, a Cafe Bavaria and a Cafe Centraal.

Like Colectivo, Cafe Hollander's first expansion outside of greater Milwaukee has been to Madison. Like Colectivo, it brings the urban-casual vibe of a slightly bigger city, without seeming like an interloper to Madisonians. Madison's Cafe Hollander opened officially on Oct. 19 at Hilldale, after a series of soft-open events that had the interwebs buzzing....
...Display And/Or Share This article
Madison Gas and Electric
Cap Times` Evjue Foundation has awarded more than $53M to the community since 1970
Madison - 12/10/2015 The Evjue Foundation, Inc. is the charitable arm of The Capital Times, a progressive voice for news, information and opinion for more than 97 years. William T. Evjue founded the paper in 1917 to ensure that those without the power of wealth and station would have a champion in the never-ending quest for clean and just government. The foundation provides funds derived from the profits of The Capital Times to many educational, cultural, and charitable causes that add so much to the quality of life in Madison and Dane County. Since the foundation`s creation in 1970, it has distributed more than $53 million to those causes....

Ken Notes: THANK YOU!!!! ...Display And/Or Share This article
Construction liens against Edgewater hotel continue to mount
Madison - 10/1/2015 As the Madison City Council debated a development agreement for the Judge Doyle Square project Tuesday night, a few lingering concerns came up around developer Robert Dunn's other major project across the isthmus: The Edgewater. Construction liens against the Edgewater Hotel Company have continued to mount in recent months, now topping $24 million across 19 different liens filed since December last year, two of which have been satisfied. Three new liens have been filed since J.H. Findorff & Son`s $16 million lien filed in June, the most recent ones coming from H.J. Martin & Son, Kone and Carley Wood Associates....
...Display And/Or Share This article
Briarpatch begins sheltering homeless youth at its facility
Madison - 10/1/2015 For the first time in Dane County, homeless youth will have a safe, comfortable place to stay when Briarpatch Youth Services begins hosting them Thursday, Oct. 1 at its shelter.

Briarpatch's facility on Rimrock Road in Madison houses an eight-bed shelter where youth can stay for up to 28 days while working with counselors to find a safe place to live....

Ken Notes: This is good if we can find the youth, convince them to use the facility, and address the issues that got them on the Street in the first place... ...Display And/Or Share This article
More non-resident students will fill workforce demands
UW Madison - 10/8/2015 A controversial plan to lift the cap on the number of non-resident students ? who pay substantially higher tuition ? is about workforce development, not more revenue, UW-Madison Chancellor Rebecca Blank told faculty Monday....

Ken Notes: This ONLY works if we can keep the students in the state after they graduate. It would have a huge impact on revenues for the UW... ...Display And/Or Share This article
Borrow more to keep road projects on pace
Wisconsin - 10/8/2015 Gov. Scott Walker said Thursday that if lawmakers authorize $150 million in additional borrowing this year, transportation projects scheduled for delay could remain on track.

That`s three-quarters of the full $200 million that the Legislature`s budget committee could authorize.

Walker reiterated his position that he won`t support any increase in transportation taxes or fees unless there are offsetting reductions in other general taxes -- an unlikely scenario given budget constraints....

Ken Notes: So a future administration will have to deal with the problems this may cause? I want infrastructure improvements but we can not place our head in the sand when it comes to repaying the loans... ...Display And/Or Share This article
Finance committee agrees to sell transportation land
Madison - 10/15/2015 The Legislature`s finance committee has agreed to sell land around the state Department of Transportation`s Madison headquarters. The committee voted 14-1 on Thursday to sell about 14 acres around the DOT building for just over $12 million to developer Smith Gilbane Co. The developer plans private developments on the land. The state plans to replace the 56-year-old DOT building as part of a $179 million property redevelopment. The new 600,000 square-foot building would house DOT and six other state agencies, including the Wisconsin Economic Development Corporation. Consolidating offices at the site would result in an estimated reduction of about 54,300 square feet of office space. The committee vote was the last step before the sale could go through....
...Display And/Or Share This article
Mother Jones says Epic Systems is actually hurting patients
Wisconsin - 10/22/2015 A national magazine has taken aim at Epic Systems, saying the company has inhibited patient care and failed to lower national healthcare costs, a primary goal of electronic health records.

Mother Jones, a liberal news magazine, published -Epic Fail- in its latest issue. Below the headline, the writer asks, Digitizing America's medical records was supposed to help patients and save money. Why hasn't that happened??...

Ken Notes: Microsoft is also the evil one and I suggest they have put many companies with better products in their wake. But in the end the marketplace drives the market and EPIC is a great example of this. The government has chosen other players and we will see how this works. In the past not adopting market leaders has been problematic. Working for KC in the early 80`s, remember being told I was nuts for looking at PC products when Wang was sooo much better. They may have been correct, but the market and I chose other options. For now, and my guess is that for the future, the market chooses EPIC... ...Display And/Or Share This article
Common Council finds compromise on sidewalk cafe fee hike
Madison - 10/22/2015 The Madison Common Council voted Tuesday to pass a compromise solution for downtown businesses regarding a license fee increase.

The compromise solution, passed without debate, decreased the proposed fee from $13 to an eventual $5.50 per square foot in 2018. According to the compromise, the revenue from the fees will go to improved maintenance and new programming in the downtown area....
...Display And/Or Share This article
City of Verona: Liberty Park rezone goes through
VERONA - 10/22/2015 One more time around the block and with a warning, Liberty Business Park got at least part of its wish to put more commercial development on the southeast side of the city. The Common Council had deferred the request to rezone nine parcels from suburban industrial to suburban commercial a month earlier despite a unanimous recommendation from the Plan Commission to allow four of the parcels. That resulted from objections by Ald. Mac McGilvray (D-1) about short-term thinking and a slippery slope toward giving up a rare opportunity to fill the city high-wage industrial development. Last week, the Plan Commission again was unanimous about the four parcels after additional discussion about the comprehensive plan for the area, the requirements of the tax-increment financing district the park sits on and how commissioners would be loath to agree to further rezonings....
...Display And/Or Share This article
For clean government, Wisconsin`s worst week ever
Wisconsin - 10/29/2015 It`s been 30 years since my workdays were spent reporting from the state Capitol, so long ago that none of the 20-some journalists with whom I shared the cramped, communal Capitol press room remain. Those were the days of Tony Earl and Tommy Thompson and Tom Loftus, an era of spirited but civil policy arguments followed by inevitable compromise. That culture of shared decisions functioned pretty well....

Ken Notes: Wow he is right and we are going to suffer because of it. Also do not point fingers here because everyone is guilty. We refuse to talk about compromise or middle ground. We are focused on the next election cycle and shifting the balance. When it happens we all tend to regret the outcomes. Paul goes on to blame the republicans and no doubt in the future we will blame the democrats, the problem is we need to blame ourselves... ...Display And/Or Share This article
New Promega board rejects hostile takeover attempt
Wisconsin - 10/29/2015 Promega Corp.`s new board of directors is turning down a high-priced takeover attempt by two stockholders who want to buy the company and oust its founder and CEO Bill Linton. Ted Kellner and Nathan Brand submitted an offer in July to buy the stock of the privately owned Fitchburg company for $625 a share - two and a half times as much as Promega offered in a stock buy-back in 2014. Their proposal values the company at about $1.25 billion.

The board, most of whose members were appointed last month, "has carefully evaluated the proposal and voted to reject the offer," Promega general counsel Dan Ghoca said in a Wednesday email to the State Journal....

Ken Notes: This would be a great opportunity for Wisconsin to step up and work with Promega to keep them in the state. WEDC could offer a loan program in exchange for Wisconsin jobs. The loan could be secured, and the risk shared with other institutions. WEDC would even benefit from the program a bit. Also Promega could also be a partner is the wet lab research space I mention below! ...Display And/Or Share This article
Uber for environmental sciences: Startups strut their stuff at Wisconsin Early Stage Symposium
Wisconsin - 11/5/2015 The ?Expedia for bus travel,? ?Netflix for continuing medical education? and ?Uber for environmental sciences? were all featured at the Wisconsin Early Stage Symposium on Wednesday afternoon. (Those are Wisconsin-based startups Tixora, AltusCampus and Pegasus Sustainability Solutions, for the record.) Twenty-eight startups, 19 of them from Wisconsin, gave five-minute rapid-fire presentations to potential investors at the annual startup-centric event...
...Display And/Or Share This article
Manure digester upgrade funding could jeopardize future projects
Dane County - 11/5/2015 The future of using manure digesters to clean Dane County?s lakes could be in jeopardy if funding for a technology that further processes discharge from digesters is not added back into the 2016 budget, supporters say.

The county?s environmental committee voted 4-0 to remove from the 2016 capital budget $500,000 to install so-called nutrient concentration technology at a county-sponsored manure digester in the town of Springfield that would remove nearly all lake-fouling phosphorus from liquid manure while producing potable water and concentrated fertilizer....

Ken Notes: The most difficult part of budgeting is to step back and look at all the needs at once and compare the apples to the oranges. It is rarely done well and often is the cause for increases. Our elected officials our never trained in this so they do their best to advocate for their projects... ...Display And/Or Share This article
Promega shareholders meet amid growing concerns in battle for control of company
Wisconsin - 11/12/2015 The battle over control of Promega Corp., one of the Madison area's premier biotechnology companies, escalated Friday as shareholders gathered for two meetings, called by opposing sides, to hash out the conflict.

At least 80 shareholders convened at Wyndham Garden Hotel in Fitchburg and 50 more listened by phone as dissident stockholders Ted Kellner, of Milwaukee, and Nathan Brand, of Miami, laid out their concerns to fellow investors....

Ken Notes: I am a huge Linton fan and much of the companies success is on his shoulders. He also seems committed to do something great for the world and the business model and this will clash. I hope they can bridge the gap but it does seem large... ...Display And/Or Share This article
Concerns about tainted Wisconsin drinking water drive week`s most-read story
Madison - 11/19/2015 Hundreds of thousands of Wisconsin residents are at risk of consuming drinking water tainted with lead, nitrate, disease-causing bacteria and viruses, according to a report by the Wisconsin Center for Investigative Journalism. Lynda Cochart`s water from the private well on her Kewaunee County farm was so poisoned by salmonella, nitrate, E. coli and manure-borne viruses that one researcher compared the results to contamination in a Third World country....

Ken Notes: Huge issue!! ...Display And/Or Share This article
Bunker Labs @ Wisconsin aims to support veteran entrepreneurs
Wisconsin - 12/3/2015 UW-Madison began a partnership Nov. 10 with Bunker Labs @ Wisconsin, an outlet that allows veterans pursue entrepreneurial interests in high-tech startups.Bunker Labs is located at University Research Park in Madison and is currently recruiting 10 to 20 veterans with strong ideas for a technological-based endeavor, according to a UW-Madison release. Executive Director of Bunker Labs @ Wisconsin and U.S. Army veteran Michael Ertmer said the characteristics maintained by soldiers often mirror the personality traits of entrepreneurs. ...
...Display And/Or Share This article
Madison Development Corporation adds affordability to housing boom
Madison - 12/10/2015 VIDEO - Madison housing mix needs more income diversity...

Ken Notes: Well said, again let me mention acquiring existing units and then using them for planed development. They private sector will look at the best return on their investment which will not be affordable housing. Proactive rather than reactive... ...Display And/Or Share This article
Mid-life crisis leads to opening of Lego trade store in Fitchburg
Fitchburg - 12/10/2015 Owen and Elliott Sustarich pounded on a glass door in Fitchburg, waiting for their grandmother to open it so they could get to the bounty that was behind it: Legos.

Lots of them.

All day, everyday, said Bricks and Minifigs owner Dan Jacobsohn with a smile. It's totally awesome.

The Sustarich kids, from Chicago, were visiting their grandparents in Fitchburg, and Bricks and Minifigs, which opened Oct. 24, was a perfect destination for them to both play with Legos and find new and used sets to take home....

Ken Notes: Christmas Legos Local Perfect!!! ...Display And/Or Share This article
ASM hears updates on latest Campus Master Plan
Madison - 11/12/2015 The Associated Students of Madison Coordinating Council heard updates Wednesday on the 2015 Campus Master Plan from Director of Campus Planning and Landscape Architecture Gary Brown.
The Campus Master Plan is created every 10 years by the Facilities Planning and Management team and the university community. It aims to guide campus growth and development through enhancing green spaces, managing future building sites and addressing transportation, circulation and parking issues, according to its website....

Ken Notes: The 2015 Campus Master Plan is HERE. ...Display And/Or Share This article
Brothers Business Interiors
As deficit looms in Wisconsin, Minnesotans fight over how to spend $1.9 billion surplus
Wisconsin / Minnesota - 12/10/2015 Wisconsin may have a firm hold on Paul Bunyan`s Axe, but Minnesota has the Badger State beat with its budget surplus. While Wisconsin`s budget, enacted in July, sets the state up for a $210 million structural deficit, legislators across the Mississippi are arguing over how to spend a $1.9 billion surplus....

Ken Notes: OUCH... ...Display And/Or Share This article
Proposed county budget amendments address manure dispute, racial disparities
Dane County - 11/12/2015 County officials are still mulling whether to restore $500,000 in funding for a largely untried technology that supporters say could reduce phosphorus runoff into Dane County's lakes. A motion to restore the funds for a nutrient content system at the town of Springfield manure digester is one of 16 capital and 39 operating budget amendments the county's Personnel and Finance Committee will consider when it meets at 5:30 p.m. Thursday. A large number of other proposed amendments to County Executive Joe Parisi's preliminary budget are intended to address homelessness, cost of living increases for county service providers, and recommendations outlined in a report on racial disparities and mental health problems in the Dane County Jail....
...Display And/Or Share This article
Dayton, lawmakers split on what to do with $1.9 billion surplus
Minnesota - 12/10/2015 A strong state economy helped double Minnesota's projected budget surplus to $1.9 billion, setting off a new political battle over how to carve up the windfall in an election year.

The credit belongs to the people of Minnesota and the businesses who have decided to locate or expand here, DFL Gov. Mark Dayton said after the state budget and economic forecast was released Thursday. Now it's our responsibility to use that money in ways that are going to better the future of our state....
...Display And/Or Share This article
Resource of the week - 2014 City of Madison Project Review and Other Links

Wisconsin - 2014 City of Madison Project Review and Other Links...

Ken Notes: A weekly link to one of the states Economic Development Resources. Or list all of the state's resources here in the WDNews Toolbox. ...Display And/Or Share This article
Jeff Vercauteren melds interests in law, architecture and politics
Madison - 10/1/2015 He was born, raised and educated in three of the nation's great football towns, but he's been drawn more to architecture, politics and law than games.

Attorney Jeff Vercauteren, 31, now claims one of those towns, Madison, as home and serves as president of Capitol Neighborhoods Inc., which represents five neighborhoods that surround Capital Square....
...Display And/Or Share This article
UW preparing to switch from Adidas to Under Armour in 2016
Madison - 10/8/2015 The University of Wisconsin athletic department appears poised to enter into a sponsorship agreement with Under Armour after 15 years with Adidas.

The UW Business and Finance Committee will vote Thursday morning to approve a 10-year contract with Under Armour that would give the university a significant boost in revenue. If approved, the UW Board of Regents would then vote on the resolution Friday morning....
...Display And/Or Share This article
Developer deals pave way for hotel, pizza place
VERONA - 10/8/2015 The Common Council approved agreements Monday to build roads that will serve a hotel on the city?s southeast side and a Pizza Ranch-anchored development off East Verona Avenue. Both agreements were mostly boilerplate, and alders had no questions about the developer-funded Fortune Drive deal within Liberty Park, but a short stretch of private road onto county property in the other drew quite a bit of flak Monday and one ?no? vote because of some uncertainties about how it would be maintained....
...Display And/Or Share This article
Work starts on second Hub apartment building, known as The James, in downtown Madison
Madison - 10/15/2015 Work has started on the site of the follow-up to the Hub Madison student apartment high-rise downtown. Approved by the city in June as The Hub II, the 12-story, 350-unit project across Gilman Street from the original has since been dubbed The James. The moniker is an apparent nod to James Madison, after whom the city was named, District 4 Ald. Mike Verveer said....
...Display And/Or Share This article
New Avenue Club bubbling up with spirit
Madison - 10/29/2015 Food Fight isn't in the habit of buying existing restaurants. In fact, when it bought the beloved Avenue Bar in 2011, it was a first for the restaurant group.

They made some initial changes in 2013, promising more later. Then they closed the restaurant in late May for a total overhaul. It reopened in early September to a lot of shocked former fans....

Ken Notes: I love Food Fight and all their restaurants. I an not wait to try this one... ...Display And/Or Share This article
Health apps and beer distribution systems part of Madison startup incubator`s graduating class
Madison - 11/5/2015 Justin Hartzman and his business partners needed some convincing to take part in gener8tor?s startup incubator program.

Based in Toronto, Canada, Hartzmann had to travel more than 20 hours to meet with the gener8tor team during the incubator?s competitive application process. (According to gener8tor, they receive more than 500 applicants for each session, which admits just five startup businesses.)

Gener8tor, a startup accelerator based in Madison and Milwaukee, provides startups a 12-week crash course in business development, providing mentorship and facilitating connections. Gener8tor also invests up to $140,000 per business during each of its sessions....
...Display And/Or Share This article
Kraft Heinz will seek buyer for Madison Oscar Mayer facility
Madison - 11/12/2015 Kraft Heinz will seek a buyer for the Madison headquarters of Oscar Mayer a move that could possibly keep the facility operational, the company and Gov. Scott Walker's office said Friday.

The revelation comes after Kraft Heinz said Wednesday that it would close the plant and put about 1,000 area workers out of a job, and amid questions about whether Walker's administration and others did enough to keep the iconic brand in the Capitol city....

Ken Notes: I am sure the would love to sell the site rather that clean it up! ...Display And/Or Share This article
OPINION: UW-Madison can help displaced Oscar Mayer workers
Wisconsin - 11/19/2015 When Oscar Mayer announced the closing of its Madison headquarters, I mourned the loss of 1,000 jobs. But I feel confident the displaced workers can land on their feet, given the range of programs in the Madison area for job training and searching...

Ken Notes: Add Tech, DWD, WEDC, and others to the mix as well. ...Display And/Or Share This article
GOP lawmakers propose bill shrinking natural resource areas
Wisconsin - 12/3/2015 Republican lawmakers began circulating a bill Monday that would ease the regulatory path for development on bodies of water, saying the changes would streamline state regulations and boost the economy. Sen. Frank Lasee and Rep. Adam Jarchow wrote in a memo to their fellow legislators seeking co-sponsors that the bill would facilitate development, leading to more jobs. "This (legislation) focuses on cleaning up the agency regulations and state laws that have been making Wisconsin less competitive for both residential and commercial growth," the lawmakers wrote....
...Display And/Or Share This article
Stoughton Commission tables plans that seeks a laundry list of zoning waivers
Stoughton - 11/12/2015 Though the Planning Commission seemed to like the idea of a Dunkin Donuts at Main and Gjertson streets, it tabled a plan that seemed too big for the space at its Nov. 9 meeting.

The owners of the BP gas station called the plan a dream project that included the demolition of the car wash, expansion of its retail space for a possible alcohol sales and the addition of a Dunkin Donuts franchise. Neighbors, however, expressed concern with a long list of zoning plan deviations needed in order to allow the project to pass muster with the commission.

The owner of the building immediately to the south called the list of deviations from planning code egregious. Community members and commissioners alike shared concerns about the impact a drive-through window would have on traffic, particularly with regards to children and other pedestrians....
...Display And/Or Share This article
City of Verona: Commission says Paoli, Candinas projects need more work
VERONA - 12/10/2015 Two controversial apartment-anchored developments got clear directives Monday from the city Plan Commission to come up with a new plan.

Each of them the Trail Edge development on Paoli Street and the Candinas development off Old PB has been the subject of at least two neighborhood meetings, but neither has yet managed to win over those residents.

Though the Paoli project was the subject of a public hearing and could still win approval by the Common Council, such a reversal of a unanimous rejection by the commission would be rare. The Candinas project, meanwhile, remains in a concept plan state, meaning the commission and council are not even supposed to take votes....
...Display And/Or Share This article
Verona buys a $6 million quarry
VERONA - 10/1/2015 The Common Council voted Monday night to purchase the former Wingra Stone gravel pit on the southeast corner of North Nine Mound Road and County Hwy. PD for the tidy sum of just over $6 million. Much of that money will come from the remaining allocation for the Epic tax-increment financing district, and Epic is expected pay for some of it, as well, but those details have yet to be worked out.

The city has been planning for quite some time to purchase right-of-way for the expansion and relocation of North Nine Mound Road, but the decision to buy the entire 78.5-acre property was relatively new, after Epic and city staff realized it could solve several problems for both entities at once....
...Display And/Or Share This article
Governor signs wine walks bill
Wisconsin - 10/22/2015 Chambers of commerce around Wisconsin can promote local retailers with wine walks without fear of breaking the law.
Gov. Scott Walker has signed a bill that legalizes the wine walks. The events have become important fundraisers for business groups. Retailers that usually don`t offer food or beverages serve wine and snacks to participants.
State revenue officials earlier indicated the events were prohibited under the law. The bill signed Wednesday allows municipalities to issue temporary alcohol licenses that cover multiple locations in a single day.
Business leaders in Baraboo launched a campaign to save the wine walks and legislation followed....
...Display And/Or Share This article
5NINES ::: helping our clients enjoy technology since 2001

We are Madison's premiere cloud service provider ...Display And/Or Share This article
Windsor residents overwhelmingly vote to become a village
Windsor - 11/5/2015 Town of Windsor residents embraced the chance to reinvent their community Tuesday, voting overwhelmingly to incorporate as a village.

The referendum, which was billed as a way to protect the community?s boundaries and tax base from annexation, passed 1,816 to 57....

Ken Notes: I see this starting a trend. Town of Verona may be next. ...Display And/Or Share This article
Target to match prices of 29 online competitors
National - 10/1/2015 The retailer had excluded Target.com purchases from its policy that lets customers get a better deal if they show that someone else is selling the same item for less. Price matching was only available at stores. But starting Thursday, Target says it will also give the price guarantee for online purchases. Target.com will match prices at 29 retailers, including of course Amazon and Walmart.com. It will also match prices from wholesale clubs such as Costco and Wal-Mart Stores` Sam`s Club....

Ken Notes: Interesting... ...Display And/Or Share This article
Verona Developer deals pave way for hotel, pizza place
VERONA - 10/1/2015 The Common Council approved agreements Mon-day to build roads that will serve a hotel on the city's southeast side and a Pizza Ranch-anchored development off East Verona Avenue. Both agreements were mostly oilerplate, and alders had no questions about the developer-funded Fortune Drive deal within Liberty Park, but a short stretch of private road onto county property in the other drew quite a bit of flak Monday and one no vote because of some uncertain-ties about how it would be maintained...

Ken Notes: Verona should be able to do so much better than a Pizza Ranch... ...Display And/Or Share This article
Target closing 13 stores nationwide citing falling profits
National - 11/5/2015 The Minneapolis-based retailer said a decision to close a store usually follows several years of decreasing profitability. The retail giant plans to close the stores on Jan. 30, 2016. The 13 are among Target`s nearly 1,800 stores in the U.S.

Target was hurt by a massive credit-card breach before Christmas 2013 that sent shoppers temporarily fleeing. The company also botched a major expansion into Canada and pulled the plug on that earlier this year....

Ken Notes: The state and larger communities may want to think about adaptive reuses of big box as the national retail footprint is changed by eCommerce and competition. We need to require developers to reuse or redevelop buildings after they are vacated. ...Display And/Or Share This article
Leinenkugel`s says beer mega-merger won`t affect operations
Wisconsin - 10/15/2015 Should the merger of the world's two brewing titans AB InBev (owners of Anheuser-Busch, makers of Budweiser) and SABMiller (parent company of MillerCoors, makers of all Miller and Coors products) get the necessary approvals, the obvious question for people in Chippewa Falls is: What will become of Leinenkugel's?...
...Display And/Or Share This article
Condon Jewelers moves out of East Towne; More additions to Greenway Station
Madison - 10/22/2015 Condon Jewelers, one of the first stores to open at East Towne Mall in the early 1970s, has left the shopping center.

But Jim Nielsen, 54, the store's owner since 2001, believes his new location along one of the city's busiest corridors will offer more visibility, easier access for his customers and nearly twice the space at less than half the rent he had been paying in the mall....

Ken Notes: We may want to start thinking about malls 2.0 in Madison... ...Display And/Or Share This article
City Council paused park condemnation plan for willing seller
Madison - 10/22/2015 Madison's City Council formally paused a plan to condemn six properties to create a Downtown park as city staff evaluate the viability of another location with a willing seller.

In a voice vote, council members unanimously supported placing the condemnation plan on file a move that prevents it from returning to the legislative body for at least 60 days....
...Display And/Or Share This article
MGM Resorts to shift casino assets to new property company
National - 10/29/2015 MGM Resorts International plans to spin off part of its casino-resort real estate into a separate company that will lease the properties back to MGM to boost value for shareholders and give both companies more flexibility to grow. The Las Vegas-based casino giant announced early Thursday it would create a real estate investment trust, or REIT, called MGM Growth Properties LLC that would own 10 of its casino-resorts and assume $4 billion in debt.

In a conference call with analysts, MGM Resorts CEO Jim Murren said his company would own a substantial interest of about 70 percent in the new one after the company goes public with trading expected to start in the first quarter of 2016....

Ken Notes: REITs are back and bigger than ever!!! ...Display And/Or Share This article
Sen. Tammy Baldwin calls for federal investigation into some WEDC loans
Wisconsin - 11/12/2015 U.S. Sen. Tammy Baldwin is urging the nation's top prosecutor to investigate the Wisconsin Economic Development Corp.'s handling of loans in three separate cases in which taxpayer funds have yet to be repaid....

Ken Notes: Really OUR Senator shooting our businesses. I need to point out that a lot of troubled loans were made under previous administrations as well. We need to fix the problems not shoot the wounded (my apologies for using the same bad analogy twice in one newsletter. We need new politicians across the board this partisanship has fractured our ability to function... ...Display And/Or Share This article
Madison City Council passes 2016 budget, fast-tracks public market
Madison - 11/12/2015 After seven hours of debate, the Madison City Council approved the 2016 budget early Wednesday, choosing a flexible financing approach for massive Judge Doyle Square project and advancing a $14 million public market as soon as possible.

All told, the $290.1 million operating budget will preserve basic services, boost employee pay, provide more opportunities to poor and minority residents and cost the average homeowner $78.80 more in city taxes next year....

Ken Notes: Just a little note because I like the budget, but why do we say it will cost the average homeowner $78.80 when the figure never goes away. That means it costs 788.00 over ten years and thousands over the ownership of your home. I think we should cap the property tax rate say at $ 25 per $ 1,000 forever. Need more money - work to increase home values or bring in new construction. ...Display And/Or Share This article
Bunker Labs helps veterans start companies; Beekeeper Data gets funding
Wisconsin - 11/19/2015 Veterans who want to start businesses in the Madison area will be able to get a helping hand from Bunker Labs, a Chicago nonprofit that started a branch here....Beekeeper Data, a Madison startup that describes itself as like MailChimp with data, is getting its first outside funding $550,000, mainly from Wisconsin Investment Partners, a group of Madison angel investors; Serra Ventures, Champaign, Illinois; and the BrightStar Wisconsin foundation...
...Display And/Or Share This article
Owner hopes new hotel at site of old Expo Inn could be catalyst for South Side
Madison - 12/3/2015 Shariff Syed's roots in the Madison area run deep. Since moving here in 1990, he has bought or operated a number of businesses, including motels in Wisconsin Dells and Cambridge, two coin-operated laundromats, liquor stores and other area business rental properties. Syed, who came to the U.S. from Kuwait but has Pakistani heritage, also is part-owner of the Madistan restaurant and former owner of restaurants Madison Masala and Mad Towne Fried Chicken....

Ken Notes: We need a beltline plan to redevelop the corridor. There are a lot of potential projects that could sprout in the corridor... ...Display And/Or Share This article
Proposed state legislation would devastate historic preservation, critics say
Wisconsin - 12/10/2015 A proposal by state Republican lawmakers to enhance property owners' rights would devastate historic preservation efforts in Madison and across the state, critics say.

A sweeping bill by Rep. Rob Brooks, R-Saukville, and Sen. Frank Lasee, R-De Pere, would prohibit municipalities from designating properties as historic landmarks without consent of the owner. And it would ban municipalities from requiring or prohibiting any actions by owners related to preservation of the historic or aesthetic value of the property without owner consent.

The proposal wouldn't pre-empt local historic preservation ordinances but effectively make them voluntary, Madison assistant city attorney John Strange said....

Ken Notes: This is a huge issue without simple solutions. We now have an empowered historic preservation group who can impact projects regardless of economic outcomes. Now we want to allow owners rights and economic drivers to ignore historic preservation. We NEED a policy that protects both the history and economics of property development. There are great examples of where this works unfortunately there are even more where it does not. ...Display And/Or Share This article
JSD Professional Services, Inc.


JSD Offering: Planning & Development / Civil Engineering / Transportation Engineering / Municipal Engineering / Structural Engineering / Water Resources / Landscape Architecture / Construction Services / Surveying & Mapping ...Display And/Or Share This article
Chazens pledge another $28 million for art on UW-Madison campus
UW Madison - 10/1/2015 Works by some of the most significant Western artists of the 20th century will join the Chazen Museum of Art's permanent collection, thanks to a $28 million gift announced Friday by the campus museum.

New York art collectors Jerome and Simona Chazen, both of whom attended UW-Madison in the 1940s, have made a firm commitment to donate 30 major artworks by contemporary and modern masters, museum director Russell Panczenko said. Many of those artworks were on display in Madison in the museum's 2005 exhibition Dual Vision: The Simona and Jerome Chazen Collection...

Ken Notes: I love this couple!!! ...Display And/Or Share This article
OPINION: Our View: State should focus on fixes to WEDC
Wisconsin - 10/8/2015 ...It?s time for the governor and the Legislature to focus on issues like the WEDC, where costly problems have been identified, instead of creating issues where there aren?t any, such as the recent proposals to gut the Open Records Law and overhaul the Government Accountability Board. Walker no longer has the distraction of a presidential campaign and the Legislature has passed a biennial budget, so the upcoming floor period that begins Oct. 20 seems to be a good time to tackle some of the issues raised in the audit. We?re not saying the agency should be disbanded. For every story of a company that got aid but didn?t create the jobs promised, there are stories of companies that use tax credits, loans and grants to stay in Wisconsin, expand operations and create jobs...

Ken Notes: Green Bay Press Gazette offers advice.... ...Display And/Or Share This article
Duluth Holdings plans initial stock offering
Wisconsin - 10/8/2015 Belleville-based Duluth Holdings is planning an initial public offering of Class B common stock.

The company has filed a registration statement with the U.S. Securities and Exchange Commission relating to the proposed offering but did not say how many shares it plans to sell or at what price.

Duluth Holdings sells men?s and women?s casual wear, work wear and accessories as Duluth Trading Company, known for the folksy marketing of its Longtail T-shirts, Buck Naked underwear and Fire Hose work pants....

Ken Notes: Cool company... ...Display And/Or Share This article
Badgers mens hockey draws smallest crowd in Kohl Center era; season ticket sales down 23%
UW Madison - 10/15/2015 The Wisconsin men`s hockey team opened its 18th season at the Kohl Center last weekend with a historic low, and season ticket sales have decreased sharply. On the heels of the program`s worst season in 82 years, the announced attendances for the Badgers` pair of ties with Northern Michigan were both among the six smallest crowds in 346 regular season and postseason home games at the Kohl Center. The announced crowd of 6,467 on Friday night was the lowest in the Kohl Center era, which dates to October 1998. Saturday`s attendance was announced as 8,098....

Ken Notes: Still on of the best shows in town, come on let`s show em what we are made of.... ...Display And/Or Share This article
Looking for Chinese food, a burger? Find both at Madison Cuisine
Madison - 10/22/2015 A restaurant serving Chinese and Japanese food as well as burgers and cheesesteak recently opened in the campus section of University Avenue.

Jing Hong Zheng opened Madison Cuisine, 785 University Ave., Aug. 26 with partner Tony Zhang. The space in the University Square development was previously home to the sportswear store Name of the Game. ...

Ken Notes: I`m in heaven... ...Display And/Or Share This article
Digging deep into history as UW-Platteville celebrates 150 years
Madison - 10/22/2015 History isn't always clearly defined.

So when officials at UW-Platteville chose a date upon which to base the school's 150th anniversary, they selected 1866.

The state legislature created the Board of Regents of Normal Schools in 1857 and the Platteville Normal School designed to educate future teachers, was the first to open nine years later in Rountree Hall, a stone building at Main and Elm streets, just west of the city's booming downtown...

Ken Notes: Congrats UWP!!! ...Display And/Or Share This article
Madison musicians, venue managers weigh in on - live music tip - debate
Madison - 10/29/2015 The last french fry has been eaten, the final chords strummed on the guitar: an evening of dining and live music in Madison is coming to close. As you recline back into your chair and glance at the bill, you feel a slight jolt as you notice an additional line on the bill: - live music tip.

A tip for the the band, situated right underneath the well-established waitstaff tip on your bill, may be coming to some Madison establishments, as the practice makes headlines and spurs social media debates around the country...

Ken Notes: A better idea is to charge an extra $ .50 when a band is playing and pay the band $1.00 for every drink sold. More fair across the board and the band looks less like beggars. ...Display And/Or Share This article
Xbox visionary to visit Madison next year to meet with students, programmers
Madison - 11/5/2015 A man instrumental to the creation of the Xbox gaming system is coming to Madison early next year.

Robert Bach, former president of the entertainment and devices division at Microsoft, will be speaking to UW-Madison students, youth at the Boys and Girls Club of Dane County and employees at Hardin Design and Development, a local software development company, on January 28, event organizers announced this week.

?He?s a visionary,? said Boys and Girls Club president Michael Johnson, who facilitated the visit. ?When I heard him speak, I loved how he talked about organizations creating their ?North Star,? and working hard to get where they want to be.?...
...Display And/Or Share This article
Feigin: It will be challenging to complete Bucks arena for $500 million
Milwaukee - 11/5/2015 Milwaukee Bucks president Peter Feigin said the Bucks could exceed their $500 million budget for the downtown arena project, but did not give a specific dollar amount of the possible cost overruns.

During an ?On The Issues? lunch event at Marquette University Law School moderator Mike Gousha asked Feigin whether the arena can still be built for $500 million ? the Bucks` target figure since they announced plans for the new arena....

Ken Notes: really???? ...Display And/Or Share This article
Two long-vacant eateries get new tenants
11/5/2015 Noosh, the eagerly awaited second restaurant by Laila Borokhim, will officially open Nov. 12 at 1920 S. Park St. Borokhim has served dinners there already, and will host a special dinner featuring lamb from Mapleton Mynd Shropshires of Stoughton on Nov. 5, but regular hours won?t kick in until next week. Noosh will be open 11 a.m.-9 p.m. Wed.-Fri., 9 a.m.-9 p.m. Sat., and 9 a.m.-1 p.m. Sun. for brunch....Downtown, the storefront that was once home to Charley?s Chocolates as well as various incarnations of the Baker?s Window at 122 State St. is reopening as a fast-food Caribbean restaurant serving pulled pork, jerk chicken and other island dishes, says building owner Harold Langhammer. Hours for the new restaurant, which does not yet have a name, have yet to be determined....
...Display And/Or Share This article
Turnover at WEDC continues with 3 vice presidents announcing departure last week
Wisconsin - 11/12/2015 The state's job-creation agency continued to shed top executives with the announced departure of three vice presidents over the past week.

On Friday, new CEO Mark Hogan informed the WEDC board that Brandon Duck, the board's fifth chief financial officer in the four years since its creation, is leaving after seven months to take a leadership position with an international development nonprofit group in Washington, D.C....
...Display And/Or Share This article
Cafe Hollander drawing crowds for a reason
Madison - 11/19/2015 Like a lot of eagerly awaited new places, Cafe Hollander has been mobbed since it opened. Friends reported showing up one Friday and encountering a 90-minute wait for dinner. Others I?ve talked to have faced an hour-and-45-minute wait. Since the Milwaukee-based Lowlands Group opened one of its Belgian-inspired restaurants Oct. 19 behind Hilldale Shopping Center, business has been brisk. It doesn?t take reservations....

Ken Notes: Cool photo... ...Display And/Or Share This article
Property taxes to rise slightly under 2016 budget approved by Dane County Board
Dane County - 11/19/2015 The Dane County Board approved a 2016 budget Monday that increases funding for homeless services and affordable housing, expands mental health programming and begins chipping away at recommendations in a report on addressing racial disparities in Dane County Jail. Supervisors approved the $567.4 million operating budget in a 33-3 vote. ...
...Display And/Or Share This article
Badger Tavern takes the place of Tony Frank`s, serving classic burgers and fish fry
Madison - 12/3/2015 The new Badger Tavern has been open for three weeks, but to Mike Franklin, it already feels like five years. "We didn't advertise, we just unlocked the door and people have come back," said Franklin, who opened his pub at 1612 Seminole Highway on Nov. 9. "We`ve been busy since the day we opened." Franklin and his brother, Mark Franklin, bought the venerable Tony Frank`s Tavern from the bank after the 86-year-old business went into foreclosure. They`ve kept much of the decor the same, but have given the place a deep cleaning and replaced much of the kitchen equipment...

Ken Notes: Welcome Back!!! ...Display And/Or Share This article
Effort to help vet entrepreneurs seeks high ground in Wisconsin
Wisconsin - 12/3/2015 The Greatest Generation that won World War II wasn't just great because of what they did while in uniform. When they returned from military service, they also sparked a peacetime economic boom that still echoes today. Nearly half of World War II veterans who came home in the 1940s started their own businesses. Today, veterans returning from the Middle East and other deployments in a still-dangerous world are aiming for a startup boom of their own. This month's launch of Bunker Labs in Madison, the creation of the Wisconsin Veterans Chamber of Commerce in Milwaukee and the introduction of the Veterans Entrepreneurial Transition Act of 2015 in Congress are examples of efforts to help returning vets find a job --- often by creating their own....

Ken Notes: Good Read! ...Display And/Or Share This article
Hotel planned at Water Street and Wisconsin Avenue
Milwaukee - 12/3/2015 The First Financial Centre, located at the northeast corner of Water Street and Wisconsin Avenue, is under contract to be sold to a developer who is planning to convert the vacant office space in the building into a hotel, according to numerous commercial real estate sources. ...

Ken Notes: attention Wisconsin this building is a lot like DHFS - I`m just saying... ...Display And/Or Share This article
Key city commission supports Far West Side homeless housing project
Madison - 12/10/2015 A city-sponsored development intended to provide new housing opportunities for homeless families will go to the City Council with support from a key Madison committee....
...Display And/Or Share This article
2015 Verona Progress
VERONA - 12/10/2015 Verona continues to be a busy place...The City of Verona con-tinues to be an attractive place for people to live and for new development. I consistently hear that people are drawn to Verona for our safe streets, great schools, and close proxim-ity to Madison...

Ken Notes: Nice Report! ...Display And/Or Share This article
Gannett Co. acquires Milwaukee Journal-Sentinel, other newspapers for $280M
Wisconsin - 10/8/2015 Gannett Co. has reached an agreement to acquire newspaper company Journal Media Group for $280 million, giving the media giant control of publications in more than 100 local markets in the U.S., company officials announced Wednesday evening.

Journal Media publications dot the Midwest and South and include the Milwaukee Journal-Sentinel, Memphis (Tennessee) Commercial-Appeal and Knoxville (Tennessee) News Sentinel.

Industry experts say the publications are a natural fit for Gannett`s strategy of maximizing short-term profits through managing the decline of publications in less competitive markets....

Ken Notes: Please please please keep the local reporters and staff we need their input and experience!!! ...Display And/Or Share This article
CARW announces 2015 commercial real estate deal of the year awards
Wisconsin - 10/15/2015 The Commercial Association of Realtors Wisconsin held its annual Deal of the Year awards Wednesday at The Pfister Hotel, recognizing deals over the last 12 months that defined the commercial brokerage community for the more than 600-member organization.

The CARW Deal of the Year recognitions were awarded in six categories: Bank Loan, Development Industrial, Investment, Office and Retail

2015 CARW CRE Deal of the Year Award Winners:
Bank Loan: General Capital Shorewood Grocery, Parking & Apartments, Associated Bank, The Private Bank, Bank Mutual
Development: 401 West Michigan, Bill Bonifas; CBRE, Inc.
Industrial: Briggs and Stratton, Samuel Dickman, SIOR; The Dickman Company Inc.
Investment: Sale of 250 E. Wisconsin, Curt Smith, John Mazza and Bill Bonifas; CBRE, Inc
Office: Empower Retirement / Chase Robert Flood, SIOR and Patti Stevens; RFP Commercial and Andrew Jensen, SIOR; Cushman & Wakefield
Retail: Costco-White Stone Station Menomonee Falls Peter Glaser; CBRE, Inc.
....
...Display And/Or Share This article
Dept. of Energy awards millions to two state companies
Wisconsin - 10/22/2015 Two Wisconsin companies have gotten millions of dollars from the U.S. Department of Energy to help develop isotopes used in medical imaging.

The two companies -- SHINE Medical Technologies and NorthStar Medical Radioisotopes LLC -- hope to produce a stable domestic source of molybdenum-99 without using weapons-grade highly enriched uranium. Most of the current moly-99 supply is made outside the country and comes from enriching uranium at that level.

The awards from the DOE's National Nuclear Security Administration are both 50-50 cost-sharing agreements, meaning the companies have to match the amount awarded. The NNSA awards for each agreement, which hope to reduce weapons-grade nuclear material, are capped at $25 million. ...

Ken Notes: cool... ...Display And/Or Share This article
Gateway Plaza would link downtown to lakefront
Milwaukee - 10/29/2015 A new parklike public plaza, designed to make the lakefront area near Discovery World, Maier Festival Park and other attractions more welcoming and accessible to downtown Milwaukee, would be built with private and public funds under a proposal unveiled Tuesday. The Lakefront Gateway Plaza would replace about 1 acre of vacant green space on the east side of Lincoln Memorial Drive, just west of Discovery World. The plaza would be just across the street from the planned Couture apartment high-rise and possible future Johnson Controls Inc. downtown office tower. The plaza would feature a fountain area that would double as winter ice-skating rinks, as well as trees, shrubs, benches and paths. It would connect to the west side of Lincoln Memorial Drive with a pedestrian bridge, and with an extension of E. Clybourn St....

Ken Notes: Madison should do this over John Nolen Drive... ...Display And/Or Share This article
Wisconsin Builders Association names new executive director
Wisconsin - 11/12/2015 The Wisconsin Builders Association has appointed Brad Boycks as the association's new executive director.
Boycks has worked for the association since April 2004, first serving as the association?s director of political affairs, then as the vice president of advocacy since 2007....
...Display And/Or Share This article
Mandel Group moves into Kansas City market
Wisconsin - 12/3/2015 Milwaukee‐based developer Mandel Group, Inc. has continued its expansion outside of the metro Milwaukee Market, completing the acquisition of two apartment buildings in Kansas totaling 918 units....

Ken Notes: Mr. Mandel we would love a project or two in Madison.... ...Display And/Or Share This article
Abele set to ink deal launching Near West Side economic development fund
Milwaukee - 10/1/2015 Milwaukee County Executive Chris Abele will on Thursday, Oct. 1, sign an agreement with local business and community leaders following the sale of the City Campus facility to Wiegand Enterprises. The agreement will launch a $1.6 million economic development fund that will help invigorate Milwaukee`s Near West Side. The sale of the Milwaukee County City Campus, an outdated and vacant facility located on 27th and Wells St., will result in $80,000 per year in savings for county taxpayers in reduced maintenance costs and will allow the county to invest $800,000 in an economic development fund that will finance community development projects that strengthen the Near West Side....
...Display And/Or Share This article
Northwestern Mutual confirms plans for 33-story mixed-use tower downtown
Milwaukee - 10/8/2015 Northwestern Mutual Life Insurance Co. confirmed a report from BizTimes Milwaukee earlier today, which said that the company plans to build a 33-story, mixed-use tower on the block bounded by North Van Buren, North Jackson, East Mason and East Wells streets.

BizTimes Milwaukee first reported the story Monday in the BizTimes Daily.

Northwestern Mutual says the $100 million development, adjacent to its downtown Milwaukee headquarters campus, will feature high-end residential apartments and retail space, while also addressing the company?s workforce parking needs.

View a photo gallery of the development renderings here.

?Northwestern Mutual believes more strongly than ever in Milwaukee and the vibrancy of our city,? said Tom Zale, vice president and head of Northwestern Mutual Real Estate, the company?s real estate arm and one of the largest such investors in the nation. ?That?s why we?re creating a destination for future residents looking to live, work and play in the heart of an exciting city while providing convenient parking for our growing employee base.?...
...Display And/Or Share This article
Land and Space
Milwaukee - 1/1/2020 Journal Sentinel business reporter Tom Daykin talks about commercial real estate and development, including stores, hotels, offices, condos, apartments and industrial buildings...

Ken Notes: Journal Sentinel limits the number of "articles" you can access online without a subscription, so if you have only have a few (20 / Month) to read -- READ THIS. Tom Daykin is the source for ED news in MKE. This is a permanent link to articles in his blog which is updated daily. The article links also work...


...Display And/Or Share This article
Johnson Controls predicts record 2016 profits
Wisconsin - 12/3/2015 Leaders at Glendale-based Johnson Controls Inc. this morning predicted record profits and higher revenues in 2016 at its Analyst Day in New York City...The company is in the process of spinning off its Automotive Experience business into a new, publicly traded company, which it now expects will be complete by Oct. 3, 2016...

Ken Notes: Attention Wisconsin reach out NOW and ask how we can help them grow. Or we can watch them grow elsewhere!!! ...Display And/Or Share This article
Greater Milwaukee Committee forming downtown development plan
Milwaukee - 11/12/2015 The Greater Milwaukee Committee's Downtown Task Force, launched earlier this year, has contracted with urban planning consultant Toni Griffin as it evaluates the challenges and opportunities facing Milwaukee?s downtown....
...Display And/Or Share This article
Focus groups offer Titletown District ideas
Wisconsin - 10/8/2015 The public space in the Green Bay Packers` Titletown District is a 10-acre blank canvas, and for the last two days community members painted it many colors, with broad strokes and narrow.

The Packers announced plans for the Titletown District in August, a commercial/residential/entertainment/social development which will be anchored by three tenants: Lodge Kohler hotel and spa, Hinterland Brewery and a Bellin Health sports clinic. It could include up to 70 townhouses and has 180,000 square feet for additional commercial development. The centerpiece is the 10-acre public space, which will include a full-sized football field and skating pond in the winter. The initial investment will be more than $120 million....
...Display And/Or Share This article
South Shore economic development forum Wednesday in South Milwaukee
South Milwaukee... 10/15/2015 High-end apartments overlooking Lake Michigan in St. Francis, development of the Layton Avenue commercial corridor and more will be topics at the fourth annual South Shore economic development forum Oct. 14. Milwaukee County Board Supervisor Patricia Jursik and the South Shore Chamber of Commerce will host the forum at 6:30 p.m. the South Milwaukee Performing Arts Center. Updates on the major development projects happening in the four municipalities that make up the South Shore will be provided from the mayors and development officials from the cities. Highlights will include:...
...Display And/Or Share This article
Walker`s Point buildings sold to Indiana group for future development
Milwaukee - 11/19/2015 Three buildings in Walker's Point were sold to an Indiana developer through a foreclosure auction for $2.2 million, according to state real estate records. The company, Cedar View Management, purchased 129-133 W. Pittsburgh Ave., from Olson RE, LLC. The buildings, which are five, four and two stories tall, were built in the 1890s. The three buildings have a combined 85,580-square feet....
...Display And/Or Share This article
Milwaukee NARI names new executive director
Wisconsin - 11/12/2015 Diane Wellhouse has been named executive director of the Milwaukee chapter of the National Association of the Remodeling Industry.

Wellhouse, who most recently served as vice president of operations and design for her family's Fox Valley business, Welhouse Construction Services, LLC, will be responsible for the day-to-day operations of the organization as well as strategic planning.
...Display And/Or Share This article
New amphitheater planned for Washington County Fair
Washington County - 12/10/2015 West Bend Mutual Insurance donated $600,000 for stage ...West Bend Mutual Insurance has donated $600,000 for a new amphitheater stage at Washington County Fair Park.

The stage, to be named, the Silver Lining Amphitheater, is part of a plan by Washington County to upgrade the facilities at its fair park in West Bend and attract new talent to the venue. Construction is expected to begin in spring 2016 and be completed for the 2016 fair.
...Display And/Or Share This article
Mixed-use development begins at former Prime Leather Furnishes Co.
Milwaukee - 10/22/2015 Ten apartments and six retail stores planned for 156-year-old space...Milwaukee-based developer David Winograd has begun construction on the former Prime Leather Furnishes Co. building in Walker's Point. Winograd and his partner on the project, Robert Bach, who owns P2 Development Company in Saukville, are planning 10 apartments and six street-level retail spaces in the building at 188 S. 2nd St. A building permit was pulled in September for $945,000. Winograd expects to complete the project in about eight months.
...Display And/Or Share This article
Dohmen purchases second Third Ward building
Milwaukee - 10/29/2015 An affiliate of The Dohmen Company has purchased a 12,000 square foot building at 200 N. Jefferson Street near company's Third Ward corporate headquarters.

The buyer, 200 North Jefferson LLC, purchased the building from ATID Investments, LLP for $1.65 million, according to state real estate records....
...Display And/Or Share This article
Craft brewery planned for Menomonee Valley
Milwaukee Area - 11/5/2015 A craft brewery is planned at a former factory in the Menomonee Valley.

Third Space Brewing, 1505 W. St. Paul Ave., will include a sampling and tasting room and have an outdoor beer garden when it opens in summer 2016.

Future plans call for an event space and revitalization of an old train dock on the property, said Kevin Wright, brewery owner....
...Display And/Or Share This article
Hampton Inn Milwaukee Airport sold
Milwaukee - 11/12/2015 The Hampton Inn Milwaukee Airport Hotel on College Avenue has sold to an Illinois company for $6.6. The Raymond Group sold the 104-room, 170,799-square-foot hotel to Villa Park, Ill.,-based MKE Hospitality LLC. The three-story property is assessed at $7 million....
...Display And/Or Share This article
Whats Up Downtown Green Bay --
GREEN BAY - 7/24/2014 Green Bay Updates...

Ken Notes: Read this Green Bay is a market I often miss but Crystal Osman has a weekly that should help... ...Display And/Or Share This article
Developers narrowed for $1 Mequon parcel
Mequon - 10/22/2015 The City of Mequon will decide which developer will be offered a chance to purchase 13.4 acres of prime real estate for $1 by the end of the month. The city has narrowed the pool down to three companies: WiRED Properties, Whitefish Bay; Shaffer Development LLC, Mequon; and United Financial Group Inc., Mequon....
...Display And/Or Share This article
Graef team design selected for Lakefront Gateway Plaza
Milwaukee - 10/29/2015 The design for the Lakefront Gateway Plaza project that was created by a team led by Milwaukee-based engineering firm Graef was selected by a group of downtown and lakefront stakeholders as the winning design for the project, officials announced today.

Click here to see a photo gallery of the winning design by the Graef team.

Ken Notes: Cool ...Display And/Or Share This article
Mount Pleasant real estate activity booming this week
Mount Pleasant 11/5/2015 Two multi-million dollar commercial real estate transactions have closed in Mount Pleasant.

Outlook Development group sold Racine Dental Group?s Mount Pleasant 57,000-square-foot office building, 1101 S Airline Road, for $23 million to San Diego-based LLJ Office Ventures.

Racine Dental Group moved into the newly-constructed facility in October 2014....
...Display And/Or Share This article
New micro-hotel planned for Bay View in former Down & Over Pub space
Milwaukee - 10/1/2015 A dog-friendly, upscale micro-hotel is planning for a 2016 opening in a prominent Bay View building located along South Kinnickinnic Avenue, according to Ald. Tony Zielinski.

The developer plans to convert 2535 S. Kinnickinnic Ave. into a seven-room micro-hotel with a restaurant operation on the first floor of the 11,500-square-foot building that according to Charles Bailey, the project`s registered agent.

"The upper floor hotel guestrooms will be luxurious and equipped with `smart` technology systems designed to offer comfort," Mr. Bailey said. ...

Ken Notes: I like dog friendly! ...Display And/Or Share This article
Klement Sausage moving corporate offices to former Pabst brewery
Milwaukee - 10/1/2015 Klement's will occupy the fourth floor of the newly constructed Pabst Professional Center building at 1036 W. Juneau Ave.

This move supports Klement's long term commitment to the city of Milwaukee and our growth plans, Ray Booth, CEO of Klement Sausage Company said in a written statement. The Pabst Professional Center represents our Best of Class business goal and supports that our best days as a company are ahead of us.

Klement is moving its corporate offices downtown from 2324 S. Burrell St., just off Lincoln Avenue....

Ken Notes: I google maped the area -- this development is going to be very nice and just seconds from all the new arena. Milwaukee is going to be pretty slick... ...Display And/Or Share This article
Eau Claire Area EDC: Winners of Eau Claire Startup Weekend announced
Eau Claire - 10/8/2015 Eau Claire Startup Weekend?s inaugural event was this past weekend, at the newly renovated Lismore Hotel. Out of the 11 participants ? 8 individuals pitched their ideas. These pitches ranged from travel apps to a GPS credit card tracker. All the participants voted for their favorite pitches, and teams formed around the three winning ideas. Teams worked Friday night through Sunday on their ideas ? culminating into presentations of their ideas in completed form to a team of judges. After teams demo their prototypes and receiving valuable feedback from the judges, 15 Second Imaging was announced as the grand prize winner....

Ken Notes: I read this PDF and was very impressed with the Event. I see more of these sponsored by WEDC and local EDC`s. If the state is serious about startup this is a great place to start!!! ...Display And/Or Share This article
R.A. Smith given permission by FAA to use unmanned aircraft system
Wisconsin - 10/8/2015 Brookfield-based R.A. Smith National has been granted an exemption by the Federal Aviation Administration (FAA) allowing the company to use drones commercially. The civil and structural engineering firm is one of only a few firms in Wisconsin to be granted this exemption, which is given to companies by the FAA on a case-by-case basis. It will allow R.A. Smith to operate commercially within the parameters and guidelines established by the FAA...
...Display And/Or Share This article
Metro Milwaukee home sales up 13% last month
Milwaukee Area - 10/15/2015 September sales in area exceeded 1,700 for first time since 2005...Home sales in the four county metro Milwaukee area were up 13.1 percent in September to 1,738, compared to 1,537 in September of 2014, according to the Greater Milwaukee Association of Realtors. For the month, home sales in Milwaukee County were up 12.1 percent to 905, sales in Waukesha County were up 18.4 percent to 553, home sales in Washington County were up 6.5 percent to 163 and home sales in Ozaukee County were up 6.4 percent to 117.
...Display And/Or Share This article
Suburban Milwaukee industrial buildings sold for $15.9 million
Milwaukee - 10/15/2015 Westminster Capital, a Lake Forest, Ill.,-based real estate investment firm has sold two of its industrial buildings in suburban Milwaukee totaling 223,200 square feet for $15.9 million.

Becknell Industrial, a Lyons, Ill.-based vertically integrated real estate firm purchased the buildings....
...Display And/Or Share This article
Area businesses named Marketplace Governor Awards finalists
Milwaukee - 10/29/2015 More than a dozen Milwaukee area businesses have been named finalists in the 2015 Marketplace Governor's Awards, which recognize Wisconsin businesses owned by minorities, women and veterans with service disabilities....
...Display And/Or Share This article
Corrugated materials maker looks to build $200M mill in Milwaukee area
Milwaukee - 10/29/2015 A corrugated paper products company that keeps a low profile is planning a major new facility in the Milwaukee region.

Corrugated Supplies Co., which is based in Bedford, Ill., plans to build a $200 million linerboard mill in 2017, said CEO John Potocsnak, in a brief interview. Potocsnak said he`s not ready to share the full details, but he is excited to bring new jobs to Wisconsin, which has a large population of skilled labor with experience in paper mills....
...Display And/Or Share This article
SC Johnson undergoing $50 million expansion, relocating 175 employees to Chicago
Racine - 11/5/2015 SC Johnson announced today a $50 million to $80 million renovation to modernize its global headquarters campus in Racine.

Construction will begin in spring 2016, and is expected to take approximately two years to complete....
...Display And/Or Share This article
CG Schmidt will lead $55 million Medical College project
Wisconsin - 12/3/2015 Professional building set for completion in fall 2017...The Medical College of Wisconsin has chosen Milwaukee firm CG Schmidt to construct its new 225,000- square-foot professional building in Wauwatosa. The project will cost between $55 million and $60 million and will be built on the north side of Connell Avenue between the college's medical education building and Wisconsin diagnostic laboratories. Once completed in fall 2017, the six to seven-story building will house up to 1,200 Medical College faculty and staff members. The building will not be used for patient care. CG Schmidt previously worked on an expansion and remodeling project for the college's medical education facilities. Madison-based Flad Architects will lead the architectural and engineering design team.

Ken Notes: Thank you for the all local team!!!! ...Display And/Or Share This article
Site for West Milwaukee Sendik's store sells for $2.3 million
West Milwaukee - 12/10/2015 An affiliate of Mequon developer Devo Management Co. has purchased the West Milwaukee site that is the planned future location of a Sendik's Food Market for $2.3 million. DEVO Miller LLC purchased a 1-acre parcel at 4200 W. Burnham St., the northeast corner of Burnham Street and Miller Parkway, from ADM Milling Company, according to state real estate records. The parcel is the former site of an ADM Milling Co. grain elevator....
...Display And/Or Share This article
Carroll University receives $3 million from state for construction project
Waukesha - 10/22/2015 The state of Wisconsin has awarded Carroll University $3 million towards its new science laboratory building on the Waukesha campus. The university demolished Maxon Hall in February and began constructing the $24 million, 44,500-square-foot, state-of-the-art science building equipped with interactive teaching and research laboratories for anatomy and physiology, biology, chemistry and biochemistry. The building will open in fall 2016, before the start of the school year, said Tiffany Wynn, university spokesperson....
...Display And/Or Share This article
Mixed-use development moves forward for Layton Avenue in Cudahy
Cudahy - 11/12/2015 The Cudahy Community Development Authority has approved a four-story, mixed-use development in excess of $10 million on Layton Avenue.
Bear Development is proposing a 54-unit apartment complex that will include a mix of one- to three bedroom workforce rate apartments and 4,000 square feet of street-level retail at 3503 Layton Ave....
...Display And/Or Share This article
PropertyDrive Commercial Listing Service
BizTimes Commercial Real Estate Conference will focus on Attracting the National Dollar
Milwaukee - 10/1/2015 In recent years a rising number of out-of-state national commercial real estate firms have made major investments in southeastern Wisconsin.

Who are these national players coming into our region? What are their plans for the properties they have acquired here? What is it that has attracted them to this marketplace?

Those questions, and others, will be answered at the 13th annual BizTimes Milwaukee Commercial Real Estate and Development Conference. The event will be held from 7:30 a.m. to 9:30 a.m. on Thursday, Nov. 19, at Potawatomi Hotel & Casino in Milwaukee....
...Display And/Or Share This article
Phoenix Investors moving HQ downtown
Milwaukee - 10/1/2015 An affiliate of Phoenix Investors, LLC purchased the office building at 401 E. Kilbourn Ave. from D&K Management LLC for $2.35 million.

The four-story structure at the corner of Kilbourn and Milwaukee streets will be used to accommodate the expanding needs of the business and expand wellness operations, according to Phoenix, which has operated at 1818 N. Farwell Ave. for 21 years...
...Display And/Or Share This article
Caterpillar to close its Oak Creek corporate office complex, move jobs to South Milwaukee
Milwaukee - 10/8/2015 Peoria, Ill.-based Caterpillar Inc. announced to its employees Monday that it plans to close its Oak Creek corporate office complex at 6744 S. Howell Ave. and move the 250 jobs there to South Milwaukee in the first half of 2016. South Milwaukee Mayor Erik Brooks posted the information on his blog Tuesday afternoon, and Caterpillar confirmed the move with BizTimes Milwaukee. ...
...Display And/Or Share This article
U.S. Bank investing $7.2 million in future Freshwater Plaza development
Milwaukee - 10/15/2015 U.S. Bank is investing $7.2 million in New Market Tax Credits to build the future Freshwater Plaza multi-use development in Walker's Point.

The 110,000-square-foot development will feature retail, apartments and an office development on eight acres at the corner of South First Street and East Greenfield Avenue. The construction cost of initial phase is $28.8 million....
...Display And/Or Share This article
A new proposal being floated for The Rock
Milwaukee County - 10/22/2015 A year after being turned down for a city-financed baseball stadium in Franklin, Developer Michael Zimmerman will be back next week with a proposal for The Rock Sports Complex. The proposal includes an outdoor stadium that could accommodate minor league baseball teams and an indoor sports complex, said John Dargle, Milwaukee County parks director....
...Display And/Or Share This article
Walker says skills gap will hold back tri-state economy
Wisconsin - 10/29/2015 Wisconsin Gov. Scott Walker believes one of the challenges that will continue to face Wisconsin and the tri-state region is the skills gap that has plagued the region for several years.

Low taxes, reasonable regulations are all nice things to have, but infrastructure, energy and workforce are must haves, Walker said. If you don't have enough workers, companies just won't work here...
...Display And/Or Share This article
Korb + Associates relocates to ASQ building
Milwaukee - 11/5/2015 Korb + Associates has moved its offices from Milwaukee Street into the ASQ Center in downtown Milwaukee. The architectural company is leasing 6,000-square-feet on the second floor of the building at 648 N. Plankinton Ave. The new location will accommodate growth the firm has experienced in the last year, as well as enable to enable Korb to maintain closer contact with its clients, said Liz Syrrakos, company spokesperson....
...Display And/Or Share This article
Riverfront Plaza on Old World Third sold
Riverfront Plaza on Old World Third has sold for $7.5 million. The building at 1110 N. Old World Third St. was sold to Andover Portland Avenue Associates LLC., an investor group from Maine. RFP Office LLC./NAI-MLG previously owned the property. It includes five floors of office space and ground-floor retail that currently houses Lucille?s Piano Bar & Grill and Ale Asylum Riverhouse....
...Display And/Or Share This article
Better yield and quality real estate make Milwaukee an attractive market
Milwaukee Area - 11/19/2015 The combination of a better yield and quality real estate has drawn national commercial real estate investors to the region.
...Display And/Or Share This article
Reno developer purchases Germantown strip mall
12/3/2015 A Reno, Nev. investor has purchased Germantown Plaza III, a small strip mall on County Line Road, for $3.9 million.
The 23,129-square-foot building is on 3.6 acres and adjacent to the original Germantown Plaza, which includes dozens of commercial businesses....

Ken Notes: imagine that gambling on Wisconsin! ...Display And/Or Share This article
Hotel, brew pub planned for Milwaukee County Research Park
11/12/2015 VJS Construction Services is proposing a hotel, brew pub and retail at Milwaukee County Research Park in Wauwatosa....
...Display And/Or Share This article
Menomonee Falls sells former Koh's distribution center for $7.2 million
Menomonee Falls - 12/10/2015 C.H. Coakley & Co. purchased the building for storage ... The Village of Menomonee Falls sold the former Kohl's Corp. Distribution Center to Milwaukee moving and storage company C.H.Coakley & Co. for $7.2 million. CMK Inc., the corporate structure for Michael Coakley, managing partner of C.H. Coakley & Company, purchased the 388,000-square-foot building at N54 W13901 Woodale Drive. Mark Fitzgerald, Menomonee Falls village manager, said Coakley is planning to use the building primarily for data storage.
...Display And/Or Share This article
Brookfield manufacturer expanding at former Vernon driving range
Vernon - 12/10/2015 American Friction Welding has purchased The National Golf Center in Vernon and plans to relocate from Brookfield and expand its business there. American Friction Welding, 115 N. Janacek Road, purchased 18 acres of land at S74 W24255 National Ave. for an undisclosed price. The company is planning to construct a 60,000-square-foot light manufacturing facility on the site, according to Waukesha County Park and Planning Commission records....
...Display And/Or Share This article
Industrial buildings sell for $9.9 million in West Allis
West Allis - 12/10/2015 Boston-based REIT purchased property ... STAG Industrial, Inc. a Boston-based real estate investment trust (REIT) focused on the acquisition and operation of single-tenant, industrial properties throughout the United States, has purchased 12.3 acres of land in West Allis for $9.9 million....
...Display And/Or Share This article
WDNews GREEN


Thank You! Hundreds of new subscribers will receive this every Monday Morning. And WDNews Regulars can click the logo above to read each Thursday. Online always at WisconsinDevelopment.com/Green/. ...Display And/Or Share This article
Greenwich Park Apartments moving forward on East Side
Milwaukee - 10/15/2015 After several years and setbacks, construction will begin on the Greenwich Park Apartments on Milwaukee's East Side. The 54-unit apartment building will be located in what is currently a City of Milwaukee and US Bank surface parking lot at 2353 N. Farwell Ave. The city pulled a $9.6 million building permit in September for the site. Bedrock Construction is listed as the contractor....
...Display And/Or Share This article
Whitewater manufacturer buys future HQ for $4 million
Whitewater - 10/22/2015 The Coburn Company Inc., a Whitewater-based manufacturer of livestock supplies and milking equipment, purchased a former Trek Bicycle building that will serve as its future headquarters. Trek Bicycle Corp. of Waterloo sold the 168,000-square-foot-building at 1170 Universal Blvd. in Whitewater for $4 million, according to state records....
...Display And/Or Share This article
Racine mayor calls for more tri-state rail options
Wisconsin - 10/29/2015 Using a 'Back to the Future' theme to illustrate his points, Racine Mayor John Dickert, challenged his colleagues to stop nitpicking at budgets and build a future for the next generation that will allow them to compete globally. 'We have an opportunity to build a plan that crosses three states to create the most efficient, effective, transportation mechanism in the world and compete globally,' Dickert said. 'We actually have an opportunity to build a plan to build our future, so when our kids look back in 30 years, all the things we talked about are not a joke.'...

Ken Notes: Late to the table??? ...Display And/Or Share This article
Another mixed-use development planned at North Water and East Brady
Milwaukee - 11/5/2015 Wangard Partners Inc. is moving forward with plans for a mixed-use development at North Water and East Brady streets. The Milwaukee developer is proposing a two-phase project that will include 89 apartments with 92 parking spaces and 4,500 feet of commercial space, including a coffee shop, in the first phase, said Wayne Wiertzema, Wangard president....
...Display And/Or Share This article
Pennsylvania manufacturer will build Milwaukee streetcars
Milwaukee - 11/19/2015 The city of Milwaukee has selected Pennsylvania-based Brookville Equipment Corp. to build the first four streetcar vehicles for $18.6 million....The Common Council earlier this year approved the $124 million downtown streetcar project. The cost to build the system will be paid for with about $65 million in federal funds and about $59 million from tax incremental financing districts...

Ken Notes: Too bad -- there is a Wisconsin company that does these... ...Display And/Or Share This article
High-end apartments planned for West Allis
West Allis - 11/19/2015 Ogden & Co. is planning to develop 216 upscale apartments and 10,000-square-feet of commercial development across from State Fair Park in West Allis beginning next Spring....
...Display And/Or Share This article
German retailer Vom Fass opens first Milwaukee location at Mayfair
Madison - 12/3/2015 Vom Fass, a German retailer of oils, wines, spirits and vinegar, has opened its first Milwaukee location at Mayfair Mall. The 980-square-foot store is next to Nordstrom and opened the same day - Oct. 23 - as the high-end retail giant....
...Display And/Or Share This article
Children's Hospital opening clinic at Milwaukee's Midtown Center
Milwaukee - 12/10/2015 Children's Hospital of Wisconsin will open a clinic at the Midtown Center on Milwaukee's Northside. The 20,000-square-foot Midtown Clinic, 5433 W. Fond du Lac Ave., will offer patients pediatric and adolescent primary care, behavioral medicine and dental care. The clinic will be built in space formerly occupied by Office Depot and is slated to open in late summer 2016....
...Display And/Or Share This article
Sendik`s creates online shopping platform
Wisconsin - 11/5/2015 Sendik?s Food Markets, based in Whitefish Bay, has developed a virtual shopping experience through which customers can select and pay for groceries online and pick them up at a store.

Sendik?s Express, announced today, is accessible through Sendik?s website and aims to give customers a more convenient grocery shopping option, according to the Balistreri-owned retailer....
...Display And/Or Share This article
Old World 3rd adding country bar to its venue list
Milwaukee - 12/3/2015 Mike Zimmerman, the owner and operator of The Rock Sports Complex in Franklin and the Milwaukee Wave soccer team, is expanding his partnership with Jake and Seth Dehne and opening of a new country bar on Old World 3rd Street. ...
...Display And/Or Share This article
Former South Shore YMCA back on the market
Cudahy - 11/12/2015 The former South Shore YMCA in Cudahy is back on the market after plans for an evangelical Christian church to purchase the property have been terminated. CBRE listed the 53,477-square-foot building at 3244 E. College Ave., 10 days ago for $2.75 million. In August, the Cudahy plan commission approved plans that ...
...Display And/Or Share This article
Cirex

Wisconsin's Commercial, Investment and Industrial Real Estate Exchange ...Display And/Or Share This article
Bucks will develop master plan for arena development
Milwaukee - 10/1/2015 The Milwaukee Bucks intend to develop a master plan in the next few months for the $400 million in development that is anticipated to be built around the new arena in downtown Milwaukee, a team co-owner said Monday. New York City hedge fund executive Wes Edens said Bucks executives are finalizing plans for a new practice facility and hope to begin construction in the near future on the corridor between West Juneau and West McKinley avenues at North Sixth Street. The pork-chop-shaped block has been vacant for more than a decade since the Park East freeway was demolished...
...Display And/Or Share This article
Metropolitan planning needed for tri-state economic development
Wisconsin - 10/29/2015 The economic potential of the tri-state region won't be unlocked until the political leaders in Wisconsin, Illinois and Indiana have a better understanding of each state's assets and problems....
...Display And/Or Share This article
Target to close Brown Deer Road store
Brown Deer - 11/5/2015 Target Corp. will close its Northridge store at 8501 W. Brown Deer Road on Jan. 30, 2016....
...Display And/Or Share This article
Racine, WEDC collaborate on funding of tech entrepreneurs
Wisconsin - 11/5/2015 Racine County tech entrepreneurs will have a new stream of funding to turn to as the City of Racine and the Wisconsin Economic Development Corporation partner on a $200,000 fund....
...Display And/Or Share This article
Gorman & Co. planning multi-family housing in Washington Park
Washington Park - 12/3/2015 Gorman & Company is planning a multi-family housing development in the Washington Park Neighborhood that will include 40 attached single-family homes in six buildings.

Washington Park Townhomes will include 26 two-bedroom units and 14 three-bedroom units, according to plans submitted to the city of Milwaukee. In addition, there will be a 900-square-foot community building that will house a leasing office, a small conference room and maintenance shop....

Ken Notes: I hope Verona sees this! ...Display And/Or Share This article
Miller Park Way retail center sold for $6.5 million
Milwaukee - 11/12/2015 A group of investors have purchased a shopping center on Miller Park Way in West Milwaukee for $6.5 million....
...Display And/Or Share This article
WDN Economic Development Toolbox
1/1/2020
Wisconsin's most complete list of Economic Development Tools, Links, and Websites. If you can't find it call 608-334-2174 and WDNews will add it for free.

Ken Notes: A set of links to economic development tools you can use everyday. You may also add this link to your website.
NOTE: The Economic Tool box is not longer attached to the weekly email, just click the link to see our tools as well the new tools from WEDC and others... ...Display And/Or Share This article
The Final Word
A single source for all economic development news for Greater Madison, Milwaukee and beyond. Wisconsin Development News, (WDN) is published weekly by Ken Harwood.

Available to commercial brokers, developers, financial professionals, community planners, public officials, the press and others who have expressed an interest in Wisconsin development. All stories should link to their original source in the original context. These pages may contain advertising, and I encourage patronage of both our sponsors and the related advertisers and publications I link to.

We limit the publication to ten advertisers per week. Advertisers can participate on a weekly, monthly, or annual basis. Please email your request to advertise or discontinue your ad to ken@wisconsindevelopment.com. The rates are $50 per week or $150 (4 ads) per month or $1,500 (50+ ads) per year. We have also been known to barter.

We link to Editorial and Opinion articles each week, this does not suggest we agree with the stance of the author. The "Ken Notes" items are the opinion of our editor. We will try to include any comments or feedback sent to WDN. Ken also writes for other state publications.

The focus for WDN is to create a positive view of economic development for Wisconsin. The publication will also feature news from around the state, nation, and world that offers insight to policy, trends, and projects that may be of interest to the reader.

Please forward any information you would like included for consideration. We do our best to include any news stories, press releases, or articles from other sources that you feel would be of interest to the reader. WDN can also host your news stories and press releases online. Please feel free to subscribe your friends and clients to WDN.

We continue to develop this newsletter because of the positive feedback we have received in the past and strong encouragement to continue. As always let us know what you think.

Ken

Kenneth Harwood
WisconsinDevelopment.com LLC
P.O. Box 930234
Verona, WI 53593-0234
608.334.2174
ken@wisconsindevelopment.com




H2Integration... If you would like to sponsor future WisconsinDevelopment issues please call Julia...
Our Current Publications:



...Display And/Or Share This article